Isotopes Park, Albuquerque, NM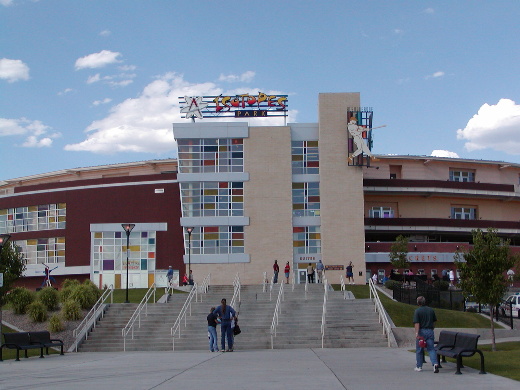 Albuquerque Isotopes
Pacific Coast League
AAA Florida Marlins

1601 Avenida Cesar Chavez SE
Albuquerque, NM 87106
505-924-2255


The photo above shows the main entry way to the Park. Ticket booth was on the right. There were two entrances to the park: one on the first base side and one on the third base side. Plenty of benches and places to sit while awaiting the gates to open.

Date Visited: July 9, 2005
Directions: Take I-25 to Gibson Blvd (exit 222A). Go east. Turn left on to University (it'll be your first major intersection). About 1/2 mile down on the right is Isotopes Park.
Ease of getting in/out: Stadium was easy to find and parking was abundant. Though it took me a few U-turns to find the correct, non-handicapped, non-reserved parking area. I got there an hour before the gates opened so I didn't have to worry about traffic. As far as getting out after the game, there were plenty of Albuquerque's finest directing traffic and pedestrian movement quite well.
Host Hotel: MCM Elegante, 2020 Menaul NE, Albuquerque, NM 87107, 505-884-2511
I stayed at a LaQuinta about 5 minutes from the stadium. It suited me just fine. LaQuinta Enter Albuquerque, then select the LaQuinta Inn Albuquerque Airport (on Yale Blvd) from the list provided.


Customer Service: An excellent job at customer service here: from the ticket sales rep, to the concession stand operator, to the police officers directing traffic. Kudo's to all of them!
Website: Pretty decent.

Personal Notes:
I quite enjoyed my game at Isotopes Park.
When I arrived at the ticket booth, there were signs all over the place that said 'berm' seating only for tonight's game. Bummer. No way I was going to sit on a slanted grass hill for an entire ballgame. I asked the attendant if he had a 'real' seat for the next night. He said he had a single seat for tonight's game. I sure lucked out.
I sat on the 1st base side of the field, just beyond the first baseman. About three rows from the field. I normally sit on the 3rd base side so this was something out of the norm for me.
They played good music and it wasn't too loud. Real time stats were provided on the scoreboard.
The Isotopes were playing the Memphis Redbirds. All Memphis Redbirds players wore hi-socks. Eye candy.
The score ended up at Memphis 12, Albuquerque 10. Six homeruns and lots of action in this game.
It was HOT. 94 degrees at game time.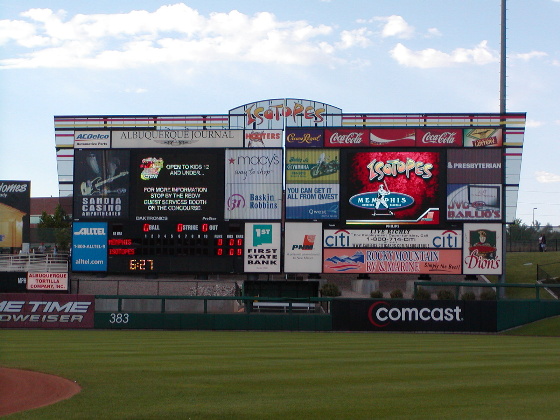 Here's the scoreboard at Isotopes Park. Jammed full of advertisements. One nice thing is they have both teams' logos displayed.
Also note, the plush green grass in the field. That can't be easy to do in Albuquerque. Kudos to the grounds crew.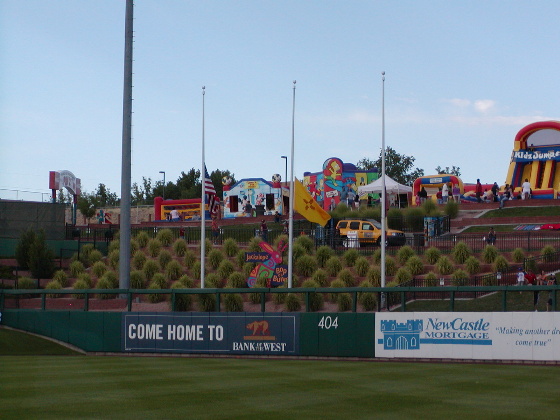 Note the flags flying at half mast. This was in memory of those lost in the London terrorist attacks two days before. There's also plenty of activities for the little ones out beyond center field.




Isotopes
Old Town
City of Albuquerque


Home
New Mexico Page