Atlanta, GA --- Fulton County Stadium


Atlanta Braves
National League
404-522-7630



Directions: The Braves don't play at Fulton County Stadium anymore. In fact, the structure doesn't exist. It's a parking lot for Turner Field. The best way I got to Fulton County was by taking the MARTA. For more information on the MARTA, visit their website MARTA.

General Area in State: North central Georgia. A 2 1/2 hour drive southwest of Greenville, SC; about two hours south of Chattanooga, TN; 4 hours east of Birmingham, AL.

Host Hotel: Visit the Atlanta Braves website www.atlantabraves.com" target="_blank" for a list of hotels in the area. Choose the Turner Field link on top of page, then select the Area Information from list on left side of page.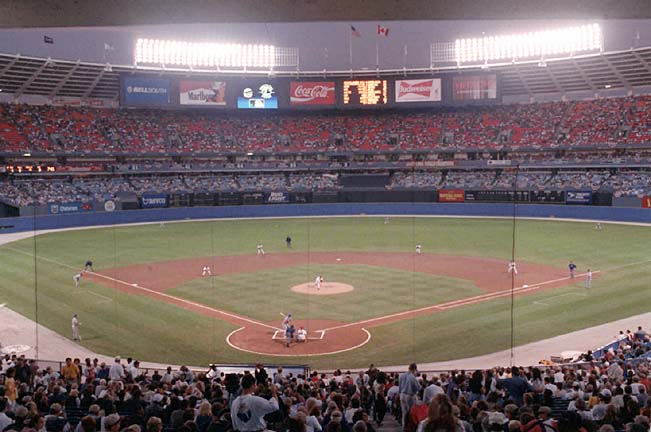 This picture is compliments of Jodie Peeler.

April 8, 2010 - Jodie's site no longer works. 'Tis a shame. I thank Jodie for allowing me to post her photo here.

It is quite a beautiful one of Fulton County Stadium.

Dates Visited: 6/21/96 - 6/22/96 and a few other times that year.
Ease of getting to;getting in and out of: I took the MARTA and it was just fine.
Radio Announcer:
Website: Good
Official website
Customer Service: Adequate
Personal Notes: I enjoyed Fulton County Stadium. I liked going to games there better than to Turner Field. I can't quite figure out the reason. Perhaps it was because the stadium was one of those circular ones. Or, it wasn't quite as congested as Turner Field. Maybe because I saw Steve Avery hit a home run. Am thrilled when pitchers do that. I miss the stadium.
I sat in a variety of different areas at Fulton County. Way up in the Upper Deck on a hot Saturday afternoon. My friends loved me for those seats. On the third base side. Up behind the home plate. Those were probably the best.

Related Links
Atlanta Braves



Georgia Page
Home