Turner Field
Atlanta, GA

Directions: The best way to get to Turner Field for a game is to take the MARTA. Take any MARTA to Five Points. After exiting the train station, follow the Braves fans to a MARTA bus that will take you to the stadium. There are announcers at the train station directing you to the bus, if needed. Best advice, follow other Braves fans. After the game, the buses will pick you up and take you back to Five Points Station.
For more information on the MARTA, visit their website Its MARTA .
General Area in State: North central Georgia. A 2 1/2 hour drive southwest of Greenville, SC; about two hours south of Chattanooga, TN; four hours east of Birmingham, AL.
Host Hotel: Visit the Atlanta Braves Website for a list of hotels in the area. Choose the Turner Field link on top of page then select the Local Area Info option.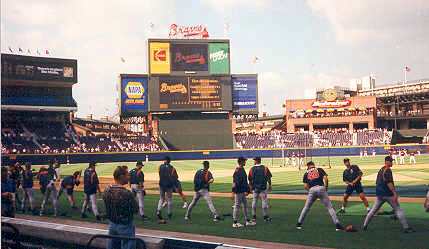 Warm ups/batting practice. I've never had a seat this close at a major league ballpark. It was delightful. Underneath the Budweiser sign in center field is an area for drinking and eating during the game. They show that area frequently when watching Braves games on TV.

Dates Visited: 4/98 and once or twice a season since; up till 2003.
Ease of getting to;getting in and out of: Wonderful if you take the MARTA. A hassle with traffic and parking if you go by car.
Radio Announcer:
Website: Good
Braves Website
Customer Service:
Personal Notes: A little expensive. Can get hot in the summer. Beautiful stadium. A huge Coke bottle display made out of baseball equipment.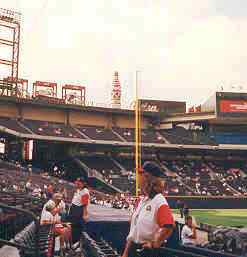 Here's the coke bottle I mentioned. It's made out of balls, bats, gloves, catcher's equipment, and more. Quite interesting to see.

May 24, 2003 Visit to Turner Field
Atlanta Thrashers
Martin Luther King Jr National Historic Site



Georgia Page
Home