Augusta, GA

Augusta Greenjackets
South Atlantic League
A Affiliate of Boston Red Sox (at the time I went - are now affiliates of the SF Giants)
706-736-7889
Lake Olmstead Park
Directions: Check out their website for directions. If you're staying overnight, get directions from your hotel front desk.
General Area in State: Eastern border of Georgia (on the South Carolina border) East of Atlanta (about a 2 hour drive); southwest of Columbia, SC (about an hour drive).
Host Hotel: I don't know the host hotel but I stayed at the Holiday Inn West on Stevens Creek Road. It was just fine. 706-738-8811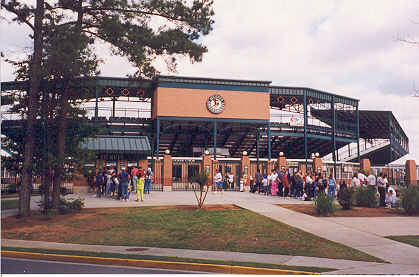 The outside of Lake Olmstead Park. Nice and clean in a 'state park' type setting.
The little structure with the green roof (left side of photo) with people standing in line is the ticket box office.

Date visited: 5/15/99
Ease of getting to; getting in and out of: I had difficulty with the directions; parking was tough.
Radio Announcer: None
Website: Okay
Official website

Customer Service: Good
Personal Notes: Beautiful setting for a ballpark across from a lake. The announcer was unclear. Think it was the sound system. Ushers asked folks to leave the box seats even though those tickets holders didn't show up. Although I did have a ticket in a box seat, I don't think it's necessary they shoo people away when the ticket holder is a no show.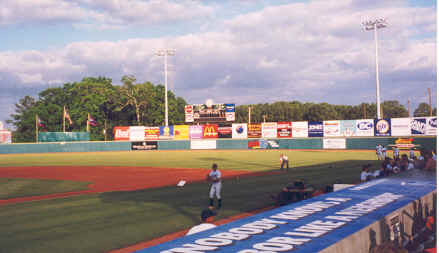 Taken from just above the first base dugout. I like those scoreboards with round clocks in them.
I noticed on my trips to different stadiums and games, more minor league players wear the hi-socks than in the major league. The lower the level of class (A vs. AA vs.AAA), the more hi-socks.

Updated: April 19, 2014
Email: mminard@comcast.net