Bowie Bay Sox

Bowie Bay Sox
Baltimore Orioles


Eastern League
AA Baltimore Orioles
Prince George's Stadium
4101 Crain Hwy.
Bowie, MD 20716
301-805-6000

Directions: Check their website below for directions.

General Area in State: About 45 minutes southwest of Baltimore; 30 minutes west of Annapolis, MD; 40 minutes northeast of Washington DC.

Host Hotel: There's a Comfort Inn that's very close . Less than a mile. 4500 Crain Hwy., Bowie, MD 20716, 301-464-0089

Dates visited: 8/11/97 - 8/12/97
Ease of getting to; getting in and out of: Excellent. Hang for a few minutes after the game for traffic to lessen.
Radio Announcer: Don't remember.
Website: Fair
Customer Service: Wonderful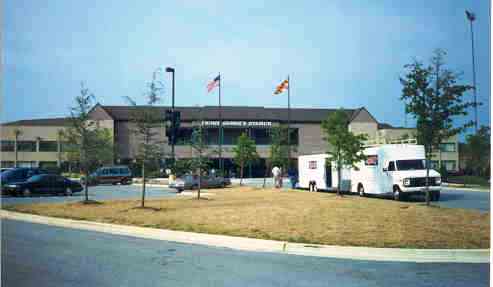 The outside of Prince George's Stadium



Personal Notes: Enjoyed my ballpark experience at Prince George's Stadium very much. Folks were friendly and polite. Met and chatted with quite a few lovely fans.
I made friends with the grounds crew. Learned more than the average bear about field maintenance. There's a whole variety of different types of sand that is used for maintenance of a field. There's the clay type sand (called brick something) that's used in the warning track; hard gray clay that's used to repair holes in the infield - used especially after batting practice; and the type that's used to absorb water and help the field from getting too muddy (like kitty litter).
The Bay Sox had a good game program; an excellent section on the Eastern League. There was a carousel on the concourse for kids to entertain themselves.
I saw the Bay Sox play the New Haven Ravens. Really wanted to see Matt Byrd pitch but he didn't the two days I was there. Disappointed. Wonder whatever happened to him...
Mark Brownson, the pitcher for the Ravens had a unique delivery. His leg gave a little, slowpaced, downward umpf when delivering a pitch.
Merchandise was 40% off in the souvenir shop. I got quite a few things. Some nice sleeveless shirts.
Les Owen played 'America the Beautiful' on the clarinet. Absolutely beautiful.
They did not play 'Take Me Out to the Ballpark' during the seventh inning stretch. Instead, they played the YMCA. Ugh. How horrible.
The starting line up wasn't posted and the announcer rattled it off too fast for me to write on my scorecard.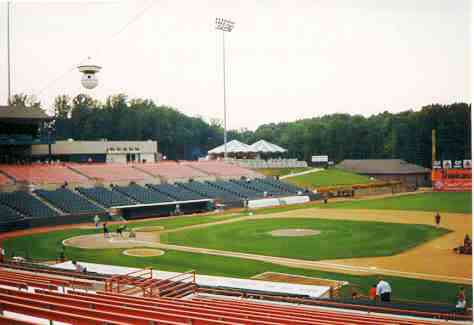 There are two levels of seating, all reached from the upper concourse.
The little white structure (upper left corner of photo) that's hanging in the middle of nowhere is the speaker for the PA.
The field was in very good shape.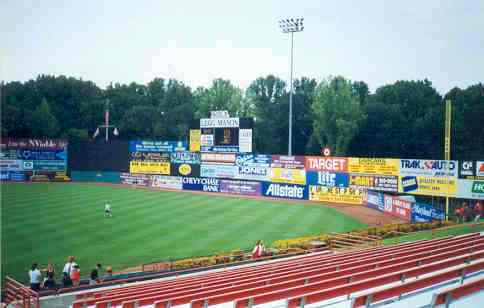 Prince George's Stadium has three levels of billboards.
As far as seating, the lower seats are 'real' seats with backs and arms. The upper level seats consist of a bench with a flat bar running across the back.



Home
Maryland Page


Updated: May 25, 2009