Somerset Patriots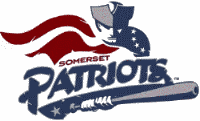 Atlantic League
Commerce Bank Ballpark
1 Patriots Park
Bridgewater, NJ 08807
908-252-0700

Directions: Check their website below for directions.

General Area in State:

Host Hotel: Somerset Ramada Inn, 1 Cottontail Lane, Somerset, NJ 08873, 732-560-9880





Date visited: 6/10/99

Ease of getting to; getting in and out of: Okay. Park rangers did well at moving cars out of the parking lot after the game.

Radio Announcer: Came in fuzzy. Couldn't listen.

Website: Decent

Customer Service: Okay.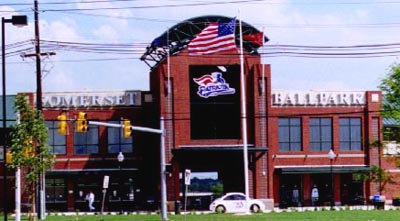 Nice, new ballpark in 1999. The volkswagon in front was packed with baseballs. You got to guess the number of balls in the car.






Personal Notes: This was was my first independent league game. Similar to minor league but I did see some differences.

The players ages had a wider range. There were more older players. I don't mean the players were old by any means but older than in the AA or AAA games I've seen.

The starting pitcher for the visiting team (Lehigh Valley Black Diamonds) threw 134 pitches; the starting pitcher for the Patriots threw 148 pitches. You don't see that in minor league; in fact, you don't see that in major league baseball either. That's a lot of pitches. I've never seen a pitcher throw that many. And, at this game, both of them pitched very well.

The Black Diamonds did something in the 10th inning I've never seen before. Bases were loaded, it was a 3 - 3 tie. The manager took one of the outfielders out of the game and replaced him witih a fifth infielder. So, there were two outfielders and five infielders. I guess he figured if someone hit a fly ball they'd lose anyway, but with five infielders, if the batter hit a ground ball, he'd have an extra chance of making a play at home. In this case, it didn't matter. The pitcher walked in the winning run.

There was a train station right behind the stadium. There were trains going by the entire game. A nice way to get to the ballpark.

Saw the first home win ever at this stadium. It was brand new. Had just opened three days prior to my attending a game there.

Date Posted: June 10, 2009

Somerset Patriots


Home
New Jersey Page