Chicago Cubs
Wrigley Field
6/15/97


Traffic and parking is horrible if you take a car to the stadium. You can take the CTA to the stadium. That's my recommendation. Click on the Cubs website below to find where you get the CTA. There're wonderful directions on that website. It's one of the better major league baseball websites I've visited. Lots of information that's clear and easy to get to.
Went to a sunny Sunday afternoon game (my favorite) at Wrigley Field with my brother. It was wonderful hanging out with bro. Hadn't done that since we were kids.
Sang 'Take Me Out To The BallPark' with Harry Carey.
A little Wrigley Field history: Lights were installed and night games started in 1988.
I'm not a fan of Chicago. Big cities scare me. Didn't do any touring.


Here you can see some of the lights that were installed in 1988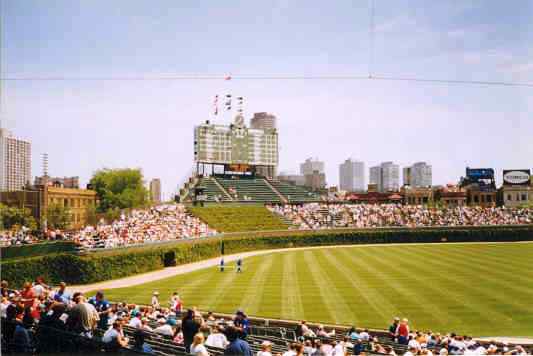 The buildings beyond the center/right field stands are the buildings you see on TV where folks sit and drink and watch the game. I was intrigued by that.
Updated: May 11, 2009
Related Links
Cubs
White Sox
Blackhawks
CTA to Wrigley



Home
Illinois Page