Cincinnati Reds 7/13/97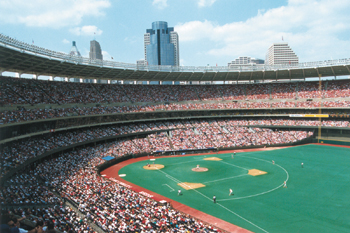 Links
Cincinnati Reds
Cincinnati Cyclones (ECHL)

Cinergy Field
Cincinnati, OH
513-421-4510
National League

(photo above was taken from Reds website back in 2000. It is not mine)

Can't say I particularly enjoyed my visit to Cincinnati but I definitely did enjoy the game I attended.
Reds vs. Expos. Saw Pedro Martinez pitch a 1 hitter. The game lasted 2 hours and 4 minutes. Shortest game I've ever been to (excluding rain outs).
Saw an old timers game prior to the regular game. I liked watching that because the players looked like they were having fun.
Sat next to neighbors/friends of Bret Boone.
I like the circular stadiums. There's a few around like that. 7/18/09 - I do not believe there are any of those left - I think Shea Stadium was the last of them....demolished in Dec., 2008
Check the Reds website above to get directions. I don't remember parking and getting there being too difficult. 7/18/09 - In 2003, the Reds moved to a new stadium - The Great American Ball Park.
Very rude concession stand service at Cinergy.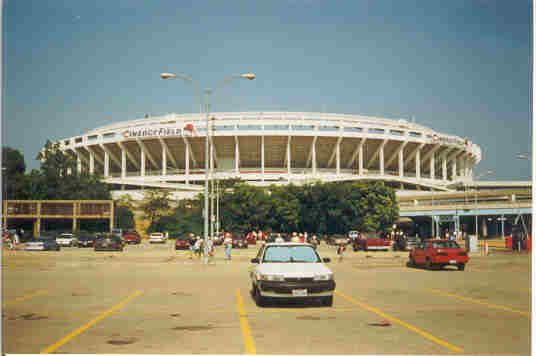 The old Riverfront; now known as Cinergy Field. Obviously parking wasn't difficult. I was probably one of the first 100 fans there as you can tell by the empty parking lot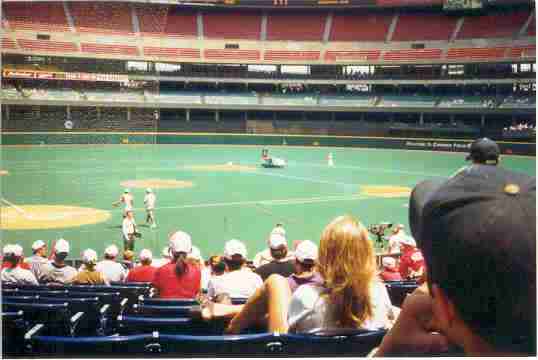 It had artificial turf. You can see the hoover vaccuum cleaner/golf cart just before second base grooming the field.


Home Page

Ohio Page