Capital City Bombers
Capital City Stadium
South Atlantic League
A Affiliate NY Mets
301 South Assembly Street
Columbia, SC 29201
803-254-HITS

Directions: From I-26 (East or West), get on I-126 inbound to Downtown Columbia (from I-26 E, the exit is immediately after the I-20 junction; from I-26 W, the exit precedes the I-20 junction. Take I-126 to Downtown Columbia, go left at the split ending I-126 (Elmwood Ave.) Take Elmwood Ave to Assembly Street (at the McDonald's). Make a right on Assembly Street. Travel about four miles (past the State House and Coliseum). The stadium will be on the right after multiple sets of railroad tracks.
In 2005, the Bombers moved to Greenville, SC and remained the Bombers until the end of that season. In 2006, the team folded. The team in Greenville, SC became the Greenville Drive - A affliate of the Red Sox.
General Area in State: Central South Carolina
Host Hotel: Was a day trip for me so don't know host hotel. Contact your travel agent or AAA for best hotels in the area.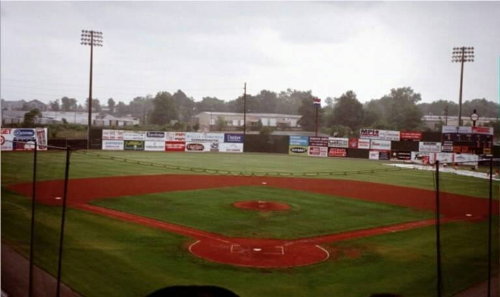 Here's the field. Towards the right field you can see the grounds crew just starting to roll out the tarp.





Date visited: May 20, 2001
Ease of getting to; getting in and out of: Excellent.
Radio Announcer: No radio announcer
Website: No longer exists
Customer Service: Okay.
Personal Notes: I don't remember a heck of alot about my visit here. But here's what I do remember. It rained before the game started and the few fans that attended the game shuffled towards behind homeplate where there was coverage from the rain. There were a couple of dogs (one a three legged dog) who hung out with the Bombers during practice. One even helped the grounds crew put out the tarp. Concessions were limited but there was one stand that grilled hotdogs and sausages on the spot. Scorecard was good. It had the traditional page plus a page that included players names and photo. I remember the announcer being decent and personable.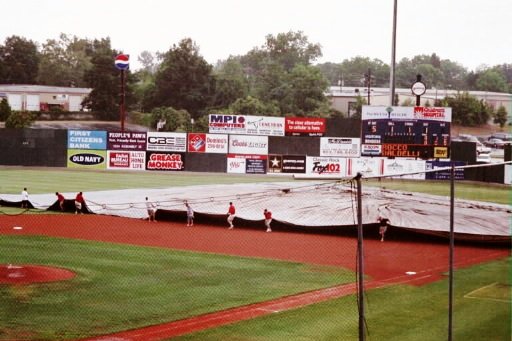 The rolling out of the tarp is always a source of entertainment at a rain delayed game. Though not too clear in this photo, that black dot in the middle of the tarp is Sophie, the dog assisting the grounds crew.






Home Page

South Carolina Page