Texas Rangers - 7/2/97

Related Links

Texas Rangers
Dallas Stars (NHL)
The Sixth Floor Museum
Dallas Zoo




The Ballpark at Arlington
Arlington, TX
817-273-5222
American League



The Ballpark at Arlington is one of my favorite of major league ballparks. Tours are given of the ballpark. There's a nice cool breeze blowing through the walkway area, it's clean, the architecture is magnificent. The gates and sections are clearly marked. The music between the innings was way too loud. Couldn't talk with the folks around me because I couldn't hear over the music.

At the game I went to there, the guy in front of me explained 'futures' of June, July, and August soybeans and pork bellies.

Saw a t-shirt that said 'At the ballpark, the man with the biggest stomach is the first to take off his shirt'. Pretty funny.

There's plenty to see and do in the Dallas area. Check out some of the links above.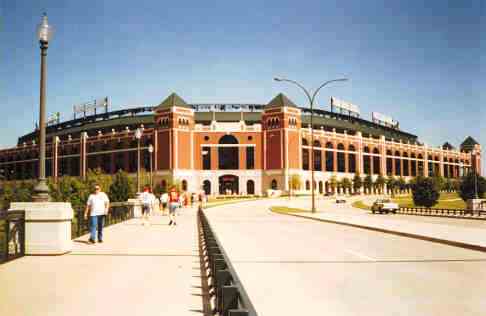 The Ballpark at Arlington



Home Page

Texas Page