Durham Bulls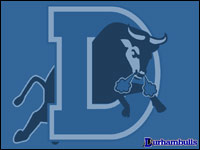 Carolina League (at the time I went)
A Atlanta Braves
Durham Bulls Athletic Park
Durham, NC 27701
919-687-6500
Other Things to See and Do in Area:
Carolina Mudcats
Greensboro Grasshoppers
Carolina Hurricanes

Directions: From I-85 - exit downtown Durham (Mangum Street). Continue on Mangum through downtown about 2 miles. Follow parking signs to ballpark. From I-40 - Take I-40 West to the Durham Freeway (exit 279B). Take Durham Freeway to the Mangum/Roxboro Street exit (exit 12B). Keep straight up the hill for 2 blocks (Willard Street). Stadium is on the right.
General Area in State: Central North Carolina; an hour drive east of Greensboro; 30 minutes northwest of Raleigh.
Host Hotel: I don't remember where I stayed but there's plenty to choose from in the area. Check AAA, mapquest, your local travel agent for one that suits your needs. You can also contact the Durham Bulls for recommended accommodations close to the ballpark.

Date visited: 8/14/97
Ease of getting to; getting in and out of: I had a tough time with parking; knowing where to park.
Radio Announcer: Mediocre. He stuck to the game but for once (and the only time) I wish he had said just a little more. It's usually the other way around.
Website: Love it! They have a section where you could send email postcards to friends and families; a section that gives you the formula for figuring out some of the stats (it even gives you the opportunity to plug the numbers in and it does the calculation for you); game day information. Definitely check this one out. 8/2008 - Site doesn't have formula for stats anymore but now has 'ready to print' scorecards. It is still one of the better ones. 12/23/12 - It's about the same as any other baseball website now.
Official Website

Customer Service: Okay



Here's the concourse of Durham Bulls Athletic Park. It's clean and spacious.

Personal Notes: The Durham Bulls are now a part of the International League and are AAA for the Tampa Bay Devil Rays. At the time I went, they were A for the Atlanta Braves.
I got to see future Greenville Braves which is always a bonus for me.
The game I attended was very exciting. Saw my first live grand slam at the game here. Nate Dishington of the Prince William Cannons got one. I believe I was the only one in attendance who applauded. There were quite a few wild pitches and passed balls that allowed some of the runs to be scored and advance runners..
When a Bulls player hit a home run, the 'Bull' on the outfield wall blew smoke, wagged its tail and turned its eyes red.
Mostly everyone sang the national anthem. That's unusual. I found the seating arrangement good. No seats were blocked by the walkway between the two levels.
Almost all the Bulls players wore hi-socks. There were two umpires. It was 95 degrees at game time.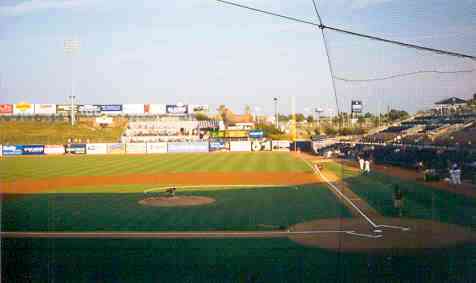 You can see the 'Bull' on the right field wall. This photo clearly displays why I do not like sitting behind the net. To me, it distorts the view of the players and field.




Home Page

North Carolina Page