Charlotte Knights 6/9/2000
Fort Mill, SC

International League
Knights Castle
AAA Affiliate Chicago White Sox
704-357-8071

Directions:

From Greenville, SC - Take I-85 N to Billy Graham Pkwy (toward airport). Take Billy Graham Pkwy to I-77 South. Take I-77 South to Exit 88 (Gold Hill Rd) in SC. Make left at light and cross over I-77. Make right on Deerfield Rd. You'll see signs at this point. Follow to stadium. About a two hour drive.

Notes: Beginning the 2014 season, the Charlotte Knights moved out of Knights Castle into BB&T Ballpark in downtown Charlotte.

General Area in State: The Charlotte Knights actually play in SC; not NC. It is in the north central part of SC near the NC border. About 1/2 hour drive from downtown Charlotte; 1 hour 45 minutes north of Columbia, SC.

Host Hotel: I didn't stay overnight. Contact AAA, another travel agency, or the Charlotte Knights number above for recommendations.

Parking/Ease of getting in and out: Excellent

Radio Announcer: Didn't listen

Website: Pretty good.

Personal Notes: Beautiful stadium. Three levels of billboards. Covered concourse, wide and spacious with a cool breeze blowing through. A clear yellow stripe between the first and second rows of billboards. Two levels of seating. The sky boxes had a plain facade. The scoreboard displayed players' names and stats. The bullpen was on the field but not in front of spectator seats. There was a carousel and one of those cages with plastic balls in it for kids to be entertained.

Good announcer. When announcing the starting line up, he left time between calls to write on scorecard, though he did not announce pitching changes during the game.

The players actually shook hands and talked with the kids who ran out with them for the national anthem.

Many fans of the Knights were into getting autographs. They brought their baseball cards and albums with them. One man had a list of players and as he got an autograph, he'd scratch the name off the list.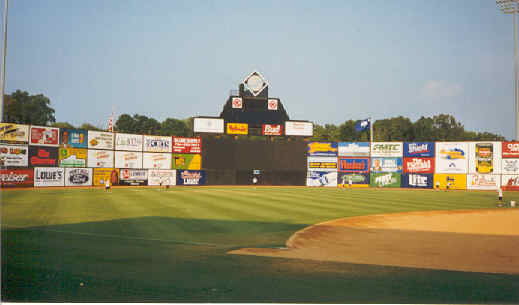 Three rows of billboards. A nice scoreboard.
Nice weather for ballgames in this part of the country.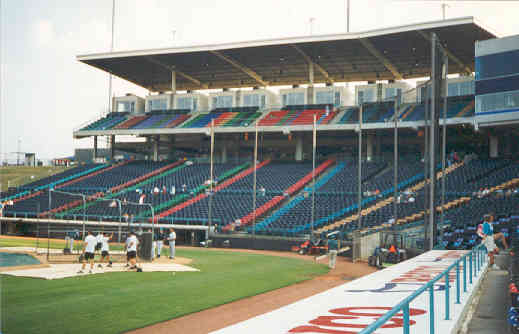 Two levels of seating. Sky boxes are underneath the overhang.
Some say this can be expanded to a major league ballpark. It is certainly big enough.

Date Posted: July, 12, 2009
Other Things to do in Area:
Carowinds (amusement park)
Checkers (AHL)


Home
North Carolina Page
South Carolina Page