Fort Wayne, IN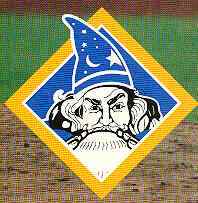 Fort Wayne Wizards
A Affiliate of the Minnesota Twins (at time I went)
Midwest League
Memorial Stadium
Fort Wayne, IN 46805
219-482-6400
Directions: Exit 112A (Coldwater Road South) off of I-69. Go south to Coliseum Blvd. Make a left on Coliseum Blvd. Take Coliseum Blvd. to the stadium.
2009 Update: The Fort Wayne Wizards are now the Fort Wayne Tincaps and play at brand new Parkview Field.
General Area in State: Fort Wayne is in the northeastern part of the state, very close to the Ohio border. About 2 hours northeast of Indianapolis, IN; 3 1/2 hours southwest of Detroit, MI.
Host Hotel: I don't remember where I stayed. There's plenty to choose from in Fort Wayne. Check AAA or your travel agent for recommendations.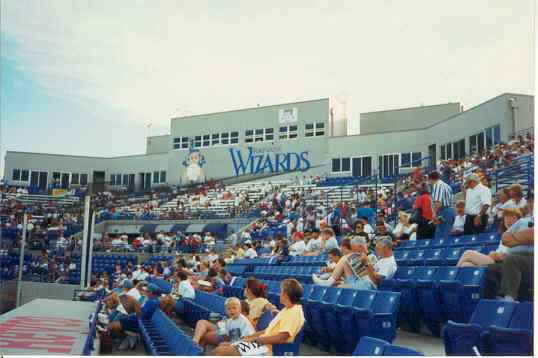 Dates visited: 7/19/97 - 7/20/97
Ease of getting to; getting in and out of: Easy to find the stadium. Nice big parking lot. No difficulties getting out.
Radio Announcer: Don't remember
Customer Service: Good

Personal Notes: I went to two games at Memorial Stadium. Was planning on staying just the one night. The Wizards were playing the Michigan Whitecaps. The Michigan Whitecaps had the best record in all professional baseball that year. They were something like 40 games over 500 at this point in the season. They lost against the Wizards the first game 7 - 3. I wanted to see them win. The game the next day was a Sunday afternoon game (my favorite). So, I stayed an extra day. The Whitecaps won that one 17 - 1. Was glad I stayed.
Learned the Wizards beat the Whitecaps in the playoffs later that year.
The Wizards had an excellent scorecard. Great picture of a pitcher on the front of it. They had an excellent stat sheet. One side had both teams players' stats; the other had game notes about the previous game, today's game, and a paragraph on current Wizard information (mostly stats but in text/word format).
The Wizards have changed affiliation since I visited there. They are now affiliated with the San Diego Padres. They are still part of the Midwest League.
I sat next to a retired banker/trucker named TR and chatted with him during the game.



Updated: May 24, 2009
Other Things to See and Do
Fort Wayne Komets (ECHL)
Fort Wayne Visitor's Center
TinCaps




Home
Indiana Page