Piedmont Boll Weevils

Links

Intimidators
Kannapolis Area Guide


South Atlantic League
A Philadelphia Phillies
(at the time I went)
Fieldcrest Cannon Stadium
2888 Moose Rd
Kannapolis, NC 28083
704-932-3267



Directions: I-85 N to exit 63. Make left and go under interstate. Go about 1/4 mile. Look for stadium entrance sign on right.

General Area in State: About 1/2 hour drive north of Charlotte, 2 hours 10 minutes from Greenville, SC.

Host Hotel: I didn't stay at a hotel so can't recommend one.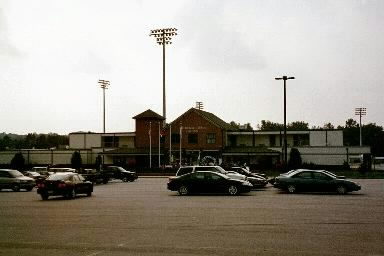 Fieldcrest Cannon Stadium.
Plenty of parking; easy to get to - right off the interstate.



Date visited: 8/19/00
Ease of getting to; getting in and out of: Excellent. Right off the interstate. Plenty of parking.
Radio Announcer: None
Website: Not so good. Note: Previous website for Bollweevils was excellent. The one listed above doesn't have a heck of a lot of information. It's the new one as of 11/2000. 8/2008 - Website is little better now. It has a guest book and former players have even signed it. Sweet.
Customer Service: Okay.
Personal Notes: Fieldcrest Cannon Stadium was a nice looking stadium. It had a playground for kids (with sitters). Wish the kids sitting behind me had gone there. They were poorly behaved, had foul mouths, and didn't sit still for one moment. Made the visit to this stadium not as enjoyable as it could have been.
The field itself needed some work. Food concession was limited.
The starting line up was not announced but it was posted up on the concourse.
I sat first row behind the first base dugout. Nice seats. This was the best played single A game I've ever seen. The Boll Weevils won in the 9th, 4 - 3 against the Cape Fear Crocs. Very exciting. A well pitched game by both starting pitchers, a well played game by both teams.
Notes: In November of 2000, the club was renamed the 'Kannapolis Intimidators.' Its new affiliate is the Chicago White Sox. 12/23/12 - Stadium was renamed in 2012 and it is now called CMC-NorthEast Stadium.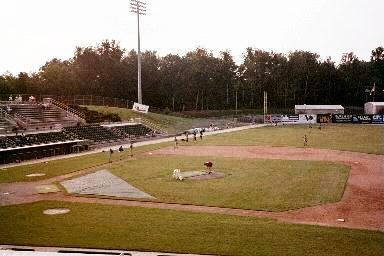 You can tell from this picture the field is in need of repair.
The buildings behind the left field wall are the club houses.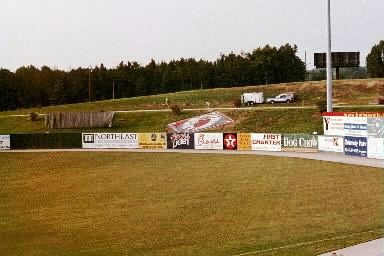 Center/right field. You can see in this picture the Boll Weevils' logo displayed in the grass beyond the outfield wall.



Home Page

North Carolina Page