Kansas City Royals 6/29/97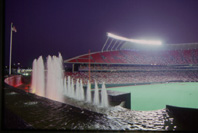 Kansas City Links
Kansas City Royals
Visit Kansas City
Negro League Baseball Museum
T-Bones
May, 2010 Visit

Kauffman Stadium
Kansas City, MO
816-921-8000

Directions: From East or West - Take I-70 to Exit # 9, Blue Ridge Cut Off/Sports Complex. From North or South - Take I-435 to Exit # 63C, Sports Complex Exit. Getting to/from and parking at Kauffman Stadium was easy and hassle free.
The stadium where the Chiefs play (football) is in the same complex.
There are spectacular water fountains across the outfield. They light up with different colors for night games. The crown on top of the scoreboard lights up as well. Worth the trip to see that.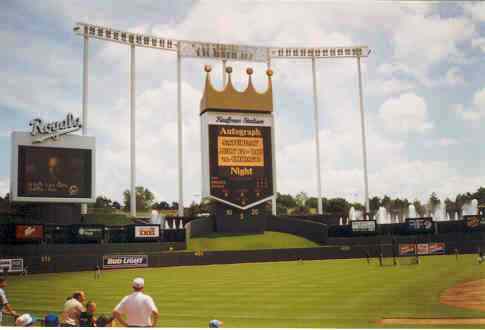 This photo doesn't do it justice. The water display is beautiful. This stadium is one of my favorites..



Click here to see photos from a May, 2010 visit back to Kauffman Stadium.

Updated: Dec 29, 2012
Home
Kansas Page