Community America Ballpark
Kansas City T-Bones
Independent Northern League
1800 Village West Parkway
Kansas City, KS 66111
913-328-BALL (2255)

Date Visited: 8/12/2005
Website: Easy to navigate
Customer Service: Decent enough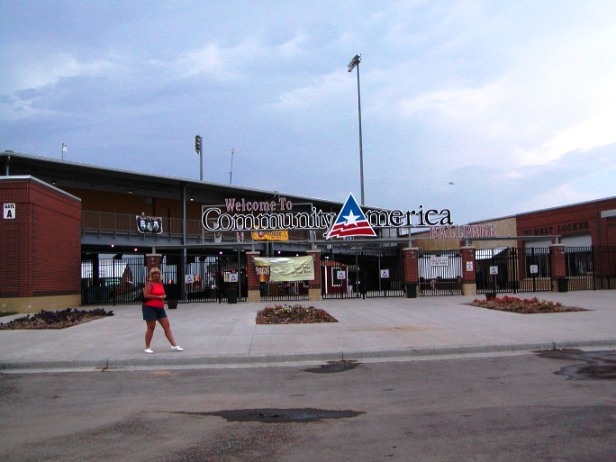 The outside of the stadium, before the game. Plenty of parking, easy to get to

Personal Notes:

As I often do, I got to the ballpark before the game around 5:30pm. There was a concourse around the entire field. I walked around it, took some photos, got something to eat, then settled into my seat. Shortly after, the grounds crew began covering the field with the tarp. I moved up to the concourse and a huge, dark cloud moved across the field and IT STORMED!!!
At 7:00pm, an announcement was made that there would be a delay of game. I waited. At 8:00pm, the precipitation subsided and the grounds crew came out. The field was drenched! The grounds crew couldn't do much with it. At 9:00pm, an announcement was made that the game would be rescheduled and there would be a double header the next day.
The next day it rained and there were no games played.
So, although I was at the stadium, I can not claim seeing a game here.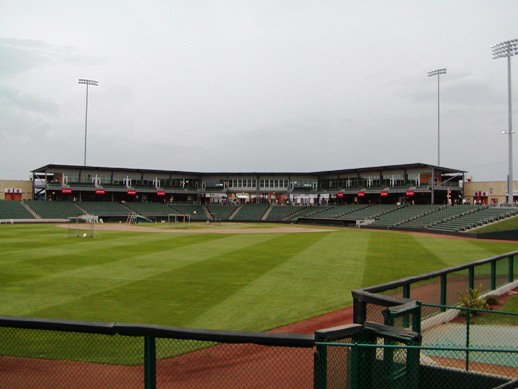 Here's a nice photo of the field and stadium taken from center field. On the bottom right of the photo, you can see part of the bullpen. It's cloudy now, but no apparent threat of rain.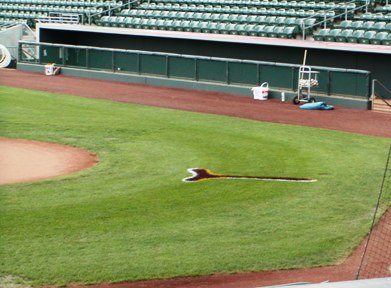 Here's a 'T-Bone' in the field just in front of the backstop. No rain yet.




Dark cloud




Rain and wind




Yup, it was pretty much a major down pour.




Updated: May 24, 2009
Kansas City Links
T-Bones
Negro League Baseball Museum
Kansas Speedway



Home
Kansas Page