Cashman Stadium
Las Vegas 51's
AAA NY Mets
Pacific Coast League
850 N Las Vegas Blvd
Las Vegas, NV 89101



Date Visited: April 26, 2015

Official Website: LV 51's


Here's the main entrance way. There are benches (some in the shade) where one can sit and wait for friends or for the gate to open. The down side is it is a smoking area.






Pin Trading Center
Being a collector of pins I love this idea. Take one; leave one. Love the concept. This wasn't used very efficiently as even the store representative didn't have a clue on how to use and how often it was used. Even so, if I ever go back, I'll bring a pin to trade.




Things I liked about Cashman Stadium:

Music level is perfect; though the PA announcer is a bit loud
Beautiful views of the mountains in the outfield; nice tree lined outfield wall
Pin trading center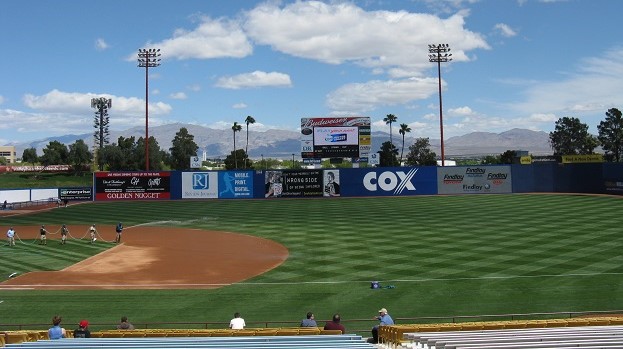 The scoreboard, beautiful green grass (at least in April in Las Vegas), tree lined outfield walls, mountains in the distance, gorgeous blue skies.




Note: Cashman Stadium is not in the tourist area of Las Vegas. It is about a mile from the Fremont Street Experience (the old Las Vegas) so definitely walkable. You do pass some homeless folks and some run down buildings and areas on the walk. I was fine walking it during the day and with other folks. So, just be cautious. It's a cab ride from the Las Vegas strip.


The seating area.
Behind home plate and the first 8 - 10 rows on the first and third base side are regular stadium seats. The rest are bleachers with backs. The bleachers have an indent so are more comfortable than flat ones.
Recommended on third base side is section 7, row K as it is the first row of bleachers and has plenty of leg room. And, it is not behind the net. You can move down to regular seats, if available, as the game goes on.




Posted: August 29, 2015