Louisville Redbirds 7/12/97

Riverbats
Louisville Visitor Center

AAA St. Louis Cardinals
(at the time I went)
American Association
(no longer exists)

The ballteam in Louisville has changed to the Louisville RiverBats and are now associated with the Cincinnati Reds, International League. They are also playing in a new stadium (good thing - see my comments below). Click on the RiverBats link above for more information.
This was the worst minor league stadium and game I've attended. It was a converted football field. The seats were arranged for football seating; not baseball. It had artificial grass. The seats had too many ugly, bright colors. The concession service was rude and food was awful.
Since attending this game, I refuse to buy food from any concession stand operated by Sport Service.
I had to move three times. A kid was screaming in my ears, the mascot danced on a chair in front of me. He smelled and he drew a million other kids who flocked around me. I couldn't breathe or watch the game.
I bet the folks in Louisville are glad they have a new stadium.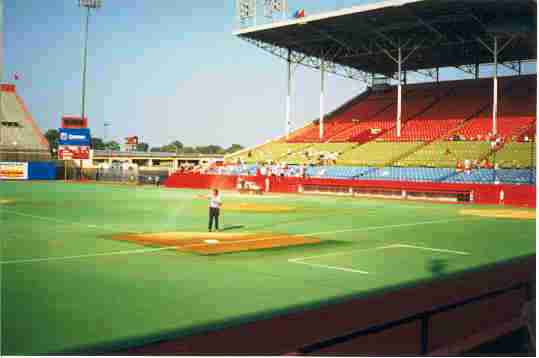 Taken from third base side before the start of the game.
Updated: Jan 26, 2013