Macon, GA

Luther Williams Field
Macon Braves
South Atlantic League
A Affiliate of Atlanta Braves
Directions: From Atlanta - Take I-75 S to I-16. Take exit 4 off I-16. Make right at light and go across Otis Redding Bridge. At first light, make a left on to Riverside Dr. Follow signs to Central City Park. The stadium is in Central City Park.
From the intersection of I-85 and I-75 in Atlanta, it took about 1 1/2 hours to drive.
General Area in State: Central Georgia
Host Hotel: I didn't stay overnight so can not recommend a hotel. Call the Macon Braves number above for recommendations.
2003 Update: As of the 2003 season, the Macon Braves have moved to Rome, GA and are now called the Rome Braves. They are still in the SAL. I do not know what's become of Luther Williams Field.
2014 Update: Luther Williams Field is know home of the Macon Pinetoppers of the Peach State League and the Macon State College Blue Storm.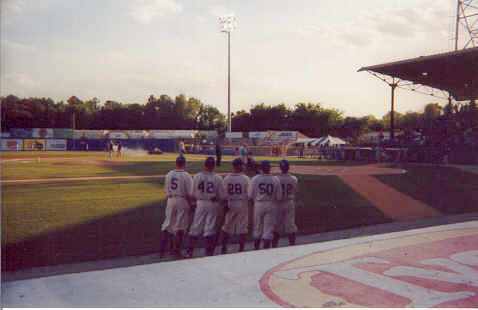 It was 'Turn Back the Clock' night.
Great uniforms!!

Date visited: 4/29/00
Ease of getting to; getting in and out of: Wonderful
Radio Announcer: none
Web site: This is the new Rome Braves web site. The Macon Braves site no longer exists
Official website

Customer Service: Excellent.
Personal Notes: Stadium built in 1929. Very nice field. Most seats are behind the net. I was able to go in before the gates opened and watch the teams practice. That's better than going to the beach! Post cards and hat pins in the souvenir stand. Bathrooms were operational and clean even after the game. Starting line up was posted. Met Jerry and Rose, season ticket holders for the M-Braves. Wonderful company during the game. We've kept touch through the mail since then. I send them articles on the current G-Braves players so they can see who's made it through the system so far. 2014: I have since lost touch with Jerry and Rose.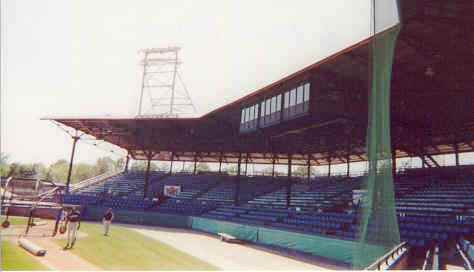 You can tell from this photo, the structure is definitely an older one.
Most seats are underneath the over hang. I, personally, prefer to sit in the sun. Found seats on the third base side that weren't under cover or behind the net. It worked for me.

Updated: April 19, 2014