Memphis Chicks 6/11/97

Related Links
Memphis Redbirds
West Tenn DiamondJaxx
Memphis Attractions
Mississippi River Kings (ice hockey)

The Memphis Chicks played at Tim McCarver Stadium until the 1998 season. They were the AA affiliate of the Seattle Mariners and a team of the Southern League. The Chicks moved to Jackson, TN beginning the 1998 season and became the West Tenn Diamond Jaxx.
Note: 3/4/2012 - This team is now known as the Jackson Generals and are still a AA affiliate of the Mariners.
Tim McCarver stadium had real grass in the outfield, artificial grass in the infield. Very odd. The stadium wasn't clean (broken glass on the outside of the stadium). It was ugly. It had one level of billboards across the outfield. Lighting was poor. Hard to keep score.
Memphis has a new baseball stadium now called AutoZone Park. Check out the Memphis Redbirds website listed above for more information.
Be careful where you stay in Memphis. Some areas are not safe. Use AAA or another travel agent to find a good area and hotel.
There is plenty to see and do in the Memphis area. Ice hockey, Graceland, National Civil Rights Museum, the list goes on. Check out the Memphis Attractions website listed above.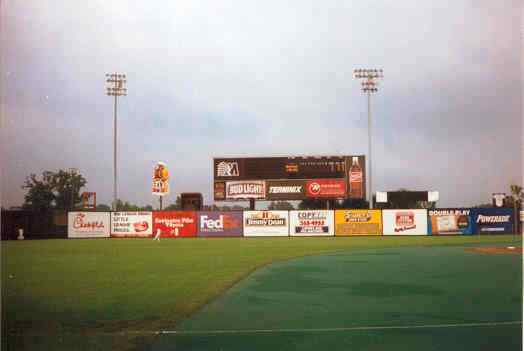 This picture gives a good representation of the artificial grass on the infield and real grass on the outfield. Neither of which look very good.




Home Page

Tennessee Page