Minnesota Twins

American League
Hubert H. Humphrey Metrodome
34 Kirby Puckett Place
Minneapolis, MN 55415
612-375-1366
Directions: I don't remember. It's east of downtown Minneapolis. In 2010, the Twins moved to the new Target Field in downtown Minneapolis.
General Area in State: Eastern border in the southern part of the state. Not far from the Wisconsin border.
Host Hotel: I don't know the host hotel but there's plenty to choose from. Contact AAA, a travel agent or the number above for a hotel. The Twins website below has a listing of hotels, as well. 7/2008 - the website doesn't appear to have hotel listings anymore. 'Tis a shame.
Date visited: 6/18/97
Ease of getting to;getting in and out of: Not too bad for a major league ballpark.
Radio Announcer: Poor
Website: Standard
Customer Service: Don't remember
Personal Notes: This was my first dome game. I was expecting not to enjoy the game based on what people told me about watching games in a dome. I enjoyed it. I 'lost' the ball in the dome as often as I 'lose' it in outdoor stadiums (that's often). It was 64 degrees and drizzly outside and there I was watching a baseball game inside. I was dry and warm.
- The Twins played the Pirates the day I went. Was hoping to see Joe Randa play but he didn't. Joe Randa was the 3B for the Pirates at the time. I did gawk at him in the dugout through my binoculars.
- The field grounds crew used a Hoover vaccuum cleaner that's a little bigger than a golf cart to clean the turf.
- It was senior citizen day that game. It was an afternoon game. My favorite (even indoors).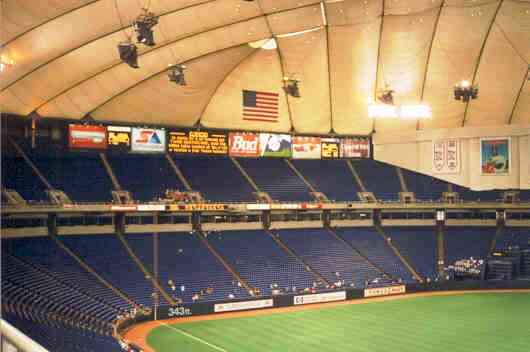 Inside the Metrodome.
To me, it looks like what I would think the the inside of a parachute looks like.. It was huge.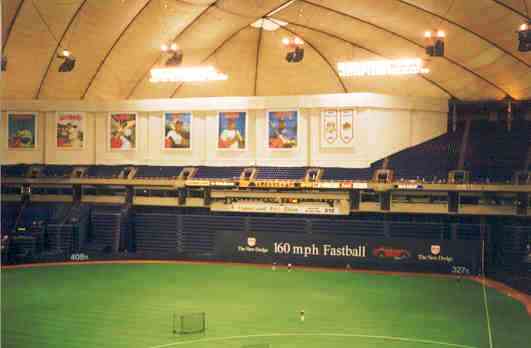 Right/center field
The big players cards posted on the wall in the outfield are the retired numbers of the Minnesota Twins. That was a nice variation of posting retired numbers.
Updated: May 25, 2009
Minnesota Twins
Minnesota Wild (NHL)




Home
Minnesota Page