Coastal Federal Field (Now Ticket Return.com Field)
Myrtle Beach, SC
Myrtle Beach Pelicans
Carolina League
A Affiliate of Atlanta Braves (at the time I visited the stadium)
843-918-6002
Directions: Take Highway 17 Business or Highway 17 Bypass to Myrtle Beach. The stadium is located at the intersection of 21st Avenue North and Central Pkwy (Robert Grissom Pkwy), directly across from Broadway at the Beach shopping, dining, and entertainment complex.
General Area in State: Northeast corner of South Carolina. About a 2 hour drive from Columbia, SC.
Host Hotel: I stayed at the Holiday Inn Express - Broadway at the Beach. 843-916-4993
It was just fine.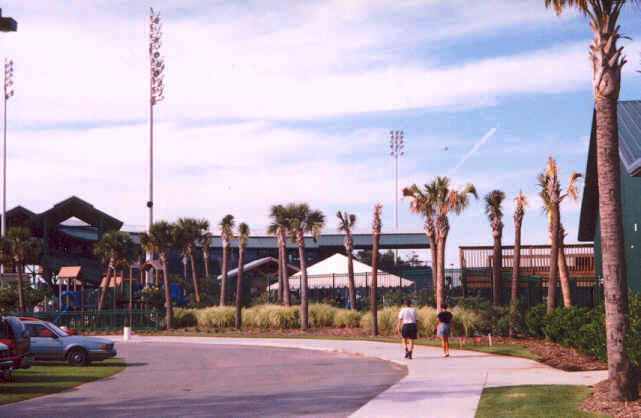 Here's the ballpark from the parking lot. To the left you can see the playground for the kids. Just LOVE seeing those ballpark lights from the road!


Date visited: 6/16/01- 6/17/01
Ease of getting to; getting in and out of: Okay. Some congestion getting out of the park after the game. Parking was free.
Radio Announcer: Unknown
Website: Excellent
Official website: Myrtle Beach Pelicans.com

Customer Service: Very nice.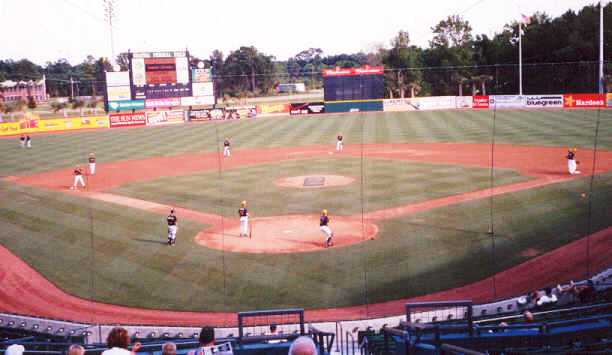 Here's the field taken from the concourse


Personal Notes: Even if you don't like baseball, if you're in the area, attend a game here just for the pure entertainment value. The organization makes attending a game here a delight.
There's a playground for kids. Similiar to the ones found at McDonalds. There are even benches for parents to sit and watch.
There was a bar along the right field line with picnic tables to sit at and watch the game while enjoying a beverage.
There was a golf cart type shuttle to bring fans from the parking area closer to the entrance.
The giveaway was a tshirt for those 18 and older. That was unusual. Many giveaways at games I've attended are for kids; not adults.
There was a dog who brought out water in a bucket to the umpire. The same dog ran the bases after the game. That was cool.
Starting line ups were posted. Announcer said them too fast to write them down. (Not uncommon).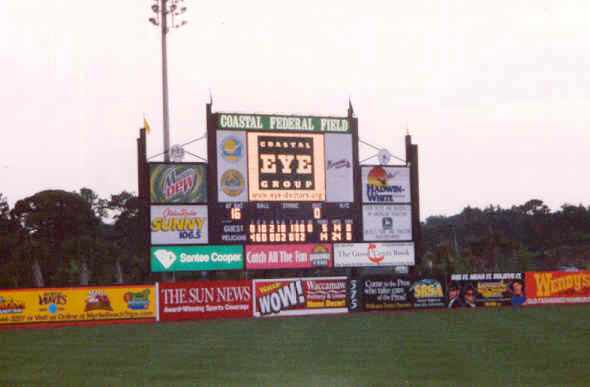 Scoreboard


Notes: 3/4/12 - In the 2011 season, the team became an affiliate of the Texas Rangers. Looks like there will be new sponsorship in the 2012 season and the stadium name will be renamed.