Nashville Sounds - 7/11/97

Nashville, TN

Greer Stadium
534 Chestnut Street
Nashville, TN 37203
615-242-4371

AAA Chicago White Sox (has changed)
American Association (no longer exists)



Directions: From the north: Take I-65 South to exit 81 (Wedgewood), turn right on to Wedgewood and go to first stop light (8th Avenue). Turn right on to 8th Avenue and go to first stop light (Chestnut Street). Turn right on to Chestnut Street. Greer Stadium will be on your left.

General Area in State: Nashville is in the center of Tennessee, a 2 1/2 hour drive northwest of Chattanooga, about a 3 1/2 - 4 hour drive northeast of Memphis.

Host Hotel: There are plenty of hotels to stay at in the Nashville area. Contact AAA or your travel agent for the one that meets your needs.



Ease of getting to; getting in and out of: Mediocre
Web site: Very good. Better than most. Check it out.
Customer Service: Excellent. Every single staff member I spoke with was friendly. They made me feel welcome and wanted.





Personal Notes: In 1998, the Nashville Sounds became a part of the Pacific Coast League and became affiliated with the Pittsburgh Pirates. Beginning 2005, the Sounds will be affiliated with the Milwaukee Brewers. It appears there are some proposals to get a new ballpark for the Sounds.
The scoreboard is shaped like a guitar. I sat on the first base side, behind the visitor's dugout. They have a mascot who, very thankfully, did not jump on the dugout in front of me during play.
Lots of activity at the game I went to. 16 hits for the Sounds, 17 for the I-Cubs. Sounds won 14 - 13 in the 10th. Saw Magglio Ordonez go 3 for 4 and score 4 runs. He led the American Association in batting average at the time of this game.
There was a beautiful fireworks display after the game. It was syncronized to the music.
Good choice of food. A pocket protector was the giveaway item. That was different.
If you're in the area, definitely take the time to visit this ballpark.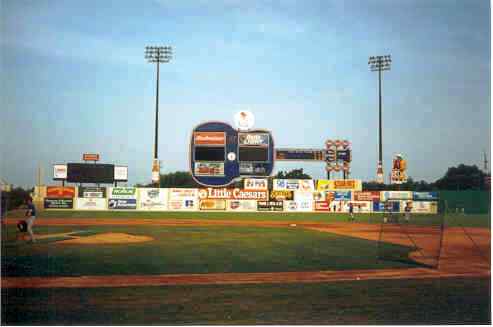 Guitar shaped scoreboard




Nashville Sounds
Country Music Hall of Fame
Grand Ole Opry
Nashville Predators (NHL)


Home
Tennessee Page