New Haven Ravens 7/30/97

New Haven Ravens
Eastern League
AA Colorado Rockies (at the time I went)
Yale Field
West Haven, CT 06516
203-782-1666



Directions: From I-95, take eastbound exit 44 or westbound exit 45 to Route 10 and follow the Yale Bowl signs. From Merritt Parkway, take exit 57, follow to 34 East.
Host Hotel: Best Western Executive Hotel, 490 Saw Mill Road, West Haven, CT 06516
Telephone: (203) 933-0344
Saw a double header. In all minor league double headers I've seen, the games are each 7 innings. So was the case at this visit.
Saw Matt Byrd pitch. He was a former G-Brave. He didn't pitch well. That was unfortunate. I wanted him to.
Yale Field had a manual scorekeeper on a big green scoreboard.
Staff at Yale Field were prejudice. Didn't like that. Made me feel embarrassed. Wouldn't recommend going to a game here because of that.
Nice looking ballpark; old architecture; nice field. George Bush played here.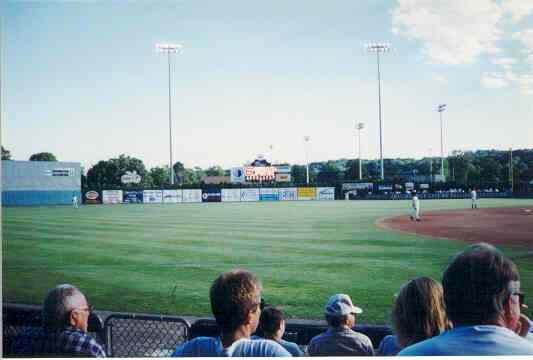 In this photo, you can see on the left side the big green manual scoreboard. More towards the center of the photo, you can see they had an electronic one as well.
The Ravens are still in the Eastern League but are now (and have been for several years) the AA affiliate of the St. Louis Cardinals. - added 1/13/02
I'm not sure when this happened but the Ravens are now AA affiliate of the Toronto Blue Jays. - added 4/20/03
In 2004, the Ravens moved from New Haven to Manchester, NH and are now called the New Hampshire Fisher Cats.
The New Haven County Cutters (Northeast Independent League) now play at Yale Field.
It does not appear any team is playing at Yale Field - added May 2, 2009

One reader asked me about my reference to the staff being prejudice at Yale Field. Here's what happened to make me say that:
The prejudice I mentioned was one incident; one staff member.
I'm a fan who doesn't really care if folks who purchase general admission tickets choose to slip to closer, empty seats as the game progresses (just don't get cotton candy in my hair!)
The fan base at Yale Field was predominently white. Along with others, there was a black family who chose to sit in empty seats a few rows behind me. They were enjoying the game as I was.
An usher came up to them (and only them) and asked to see their tickets. He asked them to return to their original seats. It was glaringly obvious he chose the family because they were black. He did not check anyone else's tickets.
It definitely left me with a bad feeling about the stadium and how it operated.
That's what happened.