Norfolk Tides

International League
AAA NY Mets
Harbor Park
150 Park Ave
Norfolk, VA 23510
757-622-2222



Directions: Check their website below for directions.

General Area in State: On the east coast of Virginia, close to the Atlantic Ocean.

Host Hotel: There's a few. Sheraton Waterside, 777 Waterside Dr., Norfolk, VA 23510 757-622-6664
Doubletree Club Hotel, 880 North Military Hwy, Norfolk, VA 23502, 757-461-9192

I emailed the Norfolk Tides email address info@norfolktides.com with specifics I was looking for in a hotel. They were wonderful enough to send me back a list of several others.





Date visited: 8/8/97

Ease of getting to; getting in and out of: I had a tough time with getting out of the ballpark. Got confused getting on to the highway.

Radio Announcer: I remember the radio announcer listing the groups that visited the ballpark the game I went to. Hadn't heard any radio announcer do that before.

Website: Decent. Plain and simple. 8/18/09 update - they seem to be all the same now. Even minor league sites.

Customer Service: Poor. Noone smiled.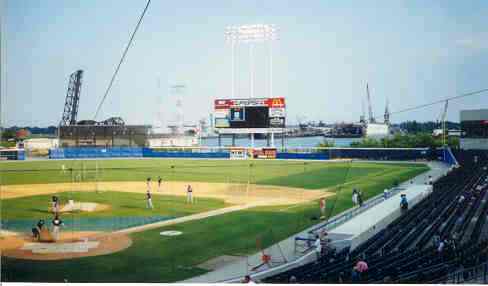 Harbor Park


Personal Notes: Although Harbor Park has been voted one of the best minor league ballparks in the country, I personally did not enjoy my visit to this stadium. My plan was to go to three games here. I just went to the one and spent the rest of my time at the beach.
It was too much like a major league baseball; too big, too crowded. Seats 12,000.
Noone smiled (including staff) or seemed like they were actually enjoying watching the game.
The program was poor: all advertisements, no articles, no table of contents.
The lighting was poor for keeping score (at least in the section I was sitting.)
More Notes:
The Tides wore the #4 on their sleeves (just like Binghamton.) A player in the Mets organization had gotten killed in a car accident. That was in memory of him.
The park itself does look nice, nice architecture, an area to stroll around in front of the stadium before the gates opened. There were very few advertisements along the outfield wall. One level of billboards.
The Tides have a nice logo. Plain and simple.
Other Links
Norfolk Tides
Chesapeake Bay Bridge-Tunnel
Norfolk Admirals (AHL)


Home
Virginia Page