Oklahoma City, OK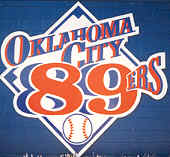 Oklahoma City 89ers
American Association (no longer exists)
AAA of the Texas Rangers
All Sports Stadium (demolished in 2005)
Links
National Cowboy Museum
OKC Convention and Visitors Bureau




Directions: Not applicable. The team has moved to a new stadium. The new stadium is Southwestern Bell Bricktown Ballpark. It is now called AT&T Bricktown Ballpark. See Personal Notes for more information.
General Area in State: Center of state. About a 3 1/2 drive north of Dallas, TX
Host Hotel: Not applicable
Date visited: 6/30/97
Ease of getting to; getting in and out of: Okay. It was in the state fair grounds.
Radio Announcer: Pretty good
Website: Below is the link to the new team, the Oklahoma Red Hawks
Oklahoma City RedHawks
Customer Service: Good



Personal Notes: The Oklahoma City 89ers moved to a new stadium in 1998, Southwestern Bell Bricktown Park (now known as Chickasaw Bricktown Ballpark) and became a part of the Pacific Coast League that same year. The team name changed to the Oklahoma RedHawks. They are currently (2012) the AAA affiliate of the Houston Astros.
The 89ers played the Buffalo Bison the game I went to. Jeff Manto for the Bison was 4 for 5: 2 HRs, 1 double, 1 single. Pretty impressive.
Dave Silvestri still reminds me of an unmade bed. He was nice and crisp when he ran out on the field; by the second inning he was unruffled.
Admired Richie Sexson, 6'7" through my binoculars all evening.
The souvenir game magazine for the 89ers was wonderful. It had a page of the rules and how to determine some of the stats. Didn't really state what was a good stat or a 'needs help' stat. It was not loaded with advertisements as most of them are.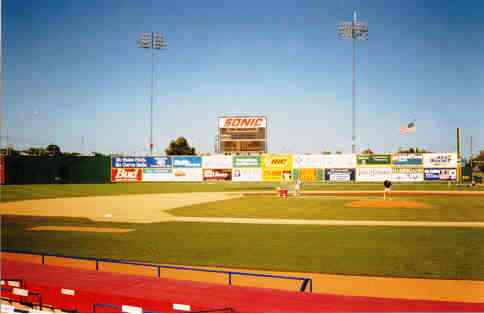 All Sport Stadium. Two levels of billboards in outfield. The wind was blowing from right to left field this day (check American flag).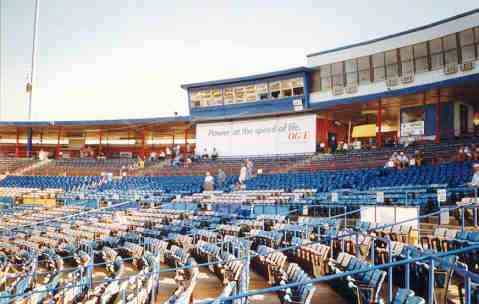 One level of seats with a concourse looking out over the playing field.






Home Page

Oklahoma Page