Omaha Royals 6/19/97
AAA Affiliate of the KC Royals
American Association (no longer exists)


Rosenblatt Stadium
1202 Bert Murphy Ave.
Omaha, NE 88107
402-734-2550
Beginning in 1998, this club became the Golden Spikes of the Pacific Coast League and is still the AAA Affiliate of the KC Royals. Beginning the 2002 season, the name of the club has returned to the Omaha Royals. In my opinion, that just sounds better.
This was the first AAA baseball game I attended. Seemed the same as AA. There was a player name Pork Chop Pough (pronounced Pew) who played for Omaha. Cool name. There were 8 home runs in that game.
It was 96 degrees at game time. The stadium is quite nice, music level acceptable (not too loud). The home dug out is on the third base side.
The College World Series is played at this stadium.
Directions to the stadium: Exit South of I-80 at 13th Street. Proceed to the second stop light. Turn left.
To find hotels and other items of interest in Omaha, check out About Omaha website listed below.
Notes: 12/26/2012 - The Omaha Royals moved to Werner Park in 2011 and became the Omaha Storm Chasers. The college world series moved to TD Ameritrade Park that same year. Rosenblatt Stadium is in the process of being demolished and the area it stood on will become a parking lot for the adjacent zoo.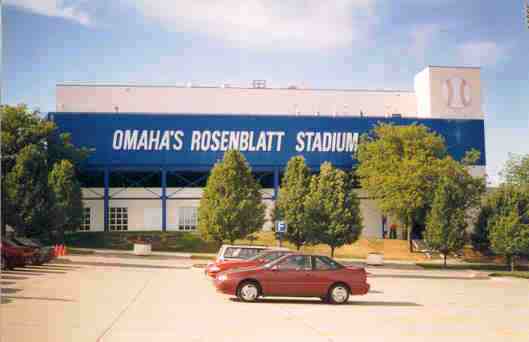 Rosenblatt Stadium. That little maron Hundai is the car I used to travel 12,420 miles across the country visiting many of the stadiums listed on this website.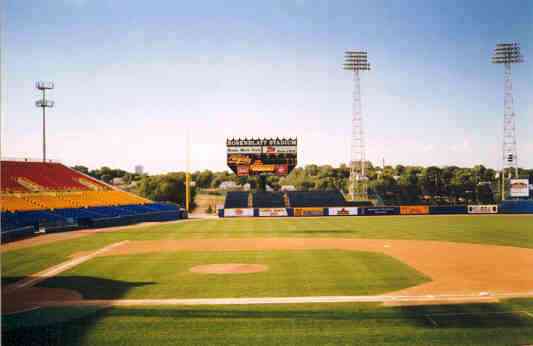 They must have let me in before the game to take this picture. If you ever watch the college world series, it may look familiar.
Omaha Royals
About Omaha




Home
Nebraska Page

Email: mminard@comcast.net