Philadelphia Phillies

Veterans Stadium
Philadelphia, PA 19148
National League
215-463-1000
Links
Phillies
Flyers
Philadelphia Visitor's Bureau
Another Philadelphia Tourist Site

Date Visited: 8/6/97
General Area in state: Southeast Pennsylvania on the New Jersey border. About 45 minutes southwest of Trenton, NJ; 2 hours southwest of New York City; 2 hours north of Baltimore, MD; 2 hours east of Harrisburg, PA. Keep in mind these are estimated travel times.
Directions: Check their website below for directions. In 2004, Veterans Stadium was demolished and the Phillies moved to their new ballpark Citizens Bank Park. Please check the Phillies website link above for directions to that park.
Ease of getting in and out: I remember there was penty of parking and attendants did a good job of directing traffic. As with any ballpark in a large metropolitan area, traffic was slow getting out of the stadium. There is a subway or lightrail system in Philadelphia that can get you to the ballpark.
Website: Typical
Radio Announcer: Don't remember
Customer Service: Excellent
Host Hotel: Check AAA or your local travel agent for lodging that suits your needs. Also check one of the tourists sites listed above.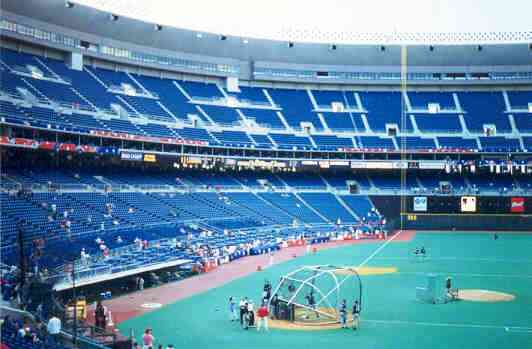 Taken during batting practice.
Veterans Stadium is one of those circular stadiums I like.



Personal Notes: There were very pleasant folks at Veterans Stadium. I was not expecting that and was surprised and delighted. Truly enjoyed my visit to this stadium because of the service level.
I had excellent seats. 4th row on the first base side. Few fans at the game I went to.
Saw the Phillies play the Astros. Got to see the 3B's in action (Biggio, Bell, Bagwell).
The sports complex in the area has three buildings: Veterans Stadium (Eagles - football and the Phillies - baseball), CoreState - Flyers - hockey, never did figure out what the other one was. I'm thinking it's where the AHL Phantoms team plays. A friend emailed me and told me the name of the third building is the Spectrum and it is where the Phantoms play. I like when cities have sports complexes where many arenas are in one location. Kansas City is like that.
In March, 2004, Veterans Stadium was demolished. The Phillies have moved to a new stadium called Citizens Bank Park.