Pittsburgh Pirates - Three Rivers Stadium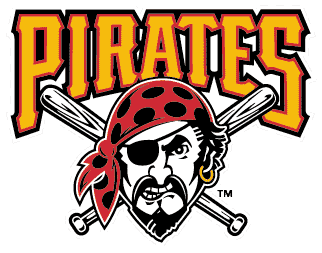 Pittsburgh, PA National League
Three Rivers Stadium
600 Stadium Circle
Pttsburgh, PA 15212
412-323-5000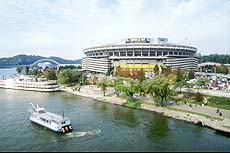 Three Rivers Stadium, at the point where the Allegheny, Monongahela, and Ohio Rivers meet.

This is not my photo. I copied it from a website back in 2000.



Directions: Check their website below for directions to the ballpark. In February, 2001, Three Rivers Stadium was demolished as part of construction of the Pirates new ballpark, PNC Park.
General Area in State: Western part of the state; not far from the Ohio border.
Host Hotel: I can't remember where I stayed.
Date visited: 7/15/97
Ease of getting to; getting in and out of: I took a water taxi from Station Square and it was wonderful. Didn't have to deal with traffic. It's the first (and only) time I've ever taken a boat to a stadium. Check out the Station Square link below.
Radio Announcer: Didn't listen
Website: Excellent. One of the better ones. 1/13/02 - the new format of the webpage isn't as nice as the previous one but you can still get to information needed. There's just a whole lot of 'stuff' on these new standard MLB pages.
Customer Service: Good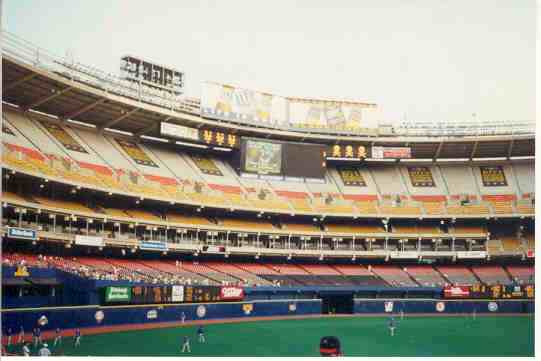 Scoreboard and left/center field taken during warmups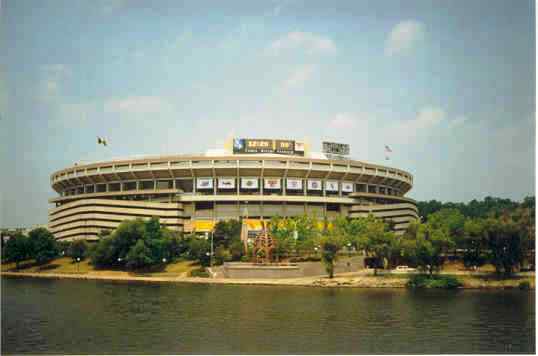 Taken from the water taxi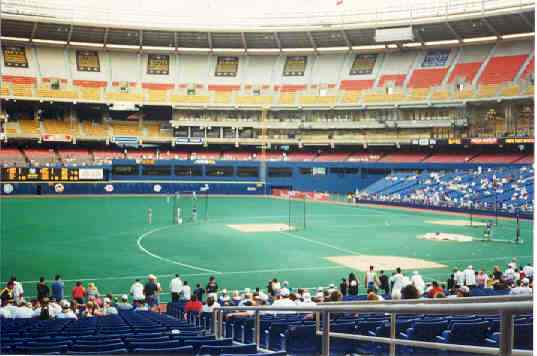 Playing field during batting practice



Personal Notes: I had a wonderful time attending a game at Three Rivers Stadium. I sat next to a woman named Mary Mikesell and we chatted much of the game. Nice company.
The stadium itself is not much to look at but they did a few things I was impressed with. They posted the official scoring; not only if a play was an H (hit) or an E (error), but also if a missed throw to the catcher was a WP (wild pitch) or a PB (passed ball). I was pleased with that. The music they played was different but motivational. No silly YMCA or macarena. Clapping, stomping music. The crowd got into it, as did I. I was impressed with that. It was out of the norm and it was wonderful.
I sat on the third base side so I could watch Joe Randa. He didn't play. Disappointed. I peered at him in the dugout through my binoculars. He had his pinky and ring finger in a splint. Noone sitting around me knew what had happened.
The Pirates beat the Mets 4 - 3 the game I attended.
Other Things to See/Do:
Station Square
Visit Pittsburgh
Penguins (NHL)


Home
Pennsylvania Page