Reading Phillies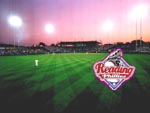 Reading Municipal Memorial Stadium
(Name changed to GPU Stadium 11/99; Name changed again to FirstEnergy Stadium in 2002)
Rt. 61 South
1900 Centre Ave.
Reading, PA 19605
610-375-8469

AA Philadelphia Phillies
Eastern League

Date Visited: 8/5/97
General Area in state: Reading is on the eastern side of Pennsylvania. About 2 1/2 hours west of New York City; a little over an hour east of Harrisburg, PA.
Directions: Check their website below for directions.
Ease of getting in and out: I remember having a terrible time with directions and getting around in Reading. Hang out for a while after the game for traffic to lessen.
Website: Good
Radio Announcer: Good. One person. Stuck to the game.
Customer Service: Good
Host Hotel: Check AAA or your local travel agent for lodging that suits your needs. Also check the visitor's bureau link below.


There was a slight rain delay. You can see a picnic area to the right of the dugout, before the GA seats.



Personal Notes: Enjoyed seeing a game at this ballpark. It's what a real minor league ballpark should be. Great field; nice and green. I ended up sitting right below the PA speaker. Volume was way too loud; it was intrusive. I was unable to talk with the person next to me.
The day I went they had $1 hot dogs, soda, and peanuts.
I really wanted to see Matt Byrd pitch a good game (visiting team pitcher). Not this game.
Folks and fans were friendly.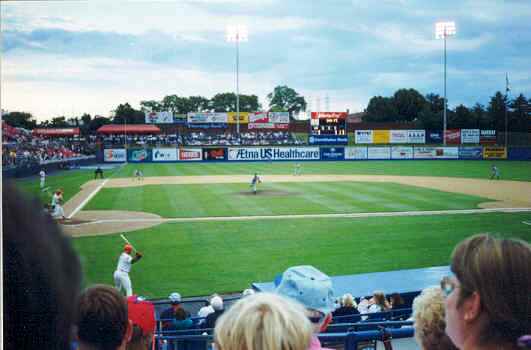 A nice setting for a ballgame




Links
Reading Phillies
Greater Reading Visitor's Bureau
Reading Royals (ECHL)


Home
Pennsylvania Page