Richmond Braves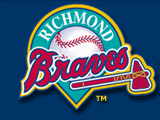 The Diamond
International League
AAA Atlanta Braves
3001 North Boulevard
Richmond, VA 23230
804-359-4444
Beginning in 2009, the Richmond Braves move to Gwinnett, GA and became the Gwinnett Braves. Beginning that same season, the Richmond Flying Squirrels took occupancy of 'The Diamond'.
Directions: I-95 to exit 78 (Boulevard exit). The Diamond is two blocks south after exiting.
General Area in State: A little east of the center of the state. A 7 hour drive from Greenville, SC.
Host Hotel: I don't know the host hotel, but the Holiday Inn-Central is within walking distance of the ballpark and is reasonable, clean, safe, and just fine.
804-359-9441. Holiday Inn





Date visited: 8/13/97
Ease of getting to; getting in and out of: Excellent. I stayed at the Holiday Inn mentioned above. Walked to the stadium.
Radio Announcer: Acceptable. Not as good as Mark Hauser but decent enough.
Website: Fair, has outdated stats and typos. The site is 'clean' without advertisements and alot of junk. See 8/18/09 notes below.
Customer Service: Okay



Personal Notes: Got to see lots of former G-Braves players. I enjoyed my visit here because of that.
The Diamond is big, two levels. There's a screen across the top of the dugout. Only the sky boxes had real seats. The rest were aluminum benches with backs.
Good concession area with a large variety of foods to choose from.
Nice scorecard. Had a newsletter and articles inside. Starting lineup was posted.
Lots of bugs.
The music level was perfect.
8/18/09 Notes: Beginning the 2009 season, the Richmond Braves moved to Gwinnett, GA and became the Gwinnett Braves. They are still the AAA of the Atlanta Braves. I do not know if The Diamond is still in existance or not.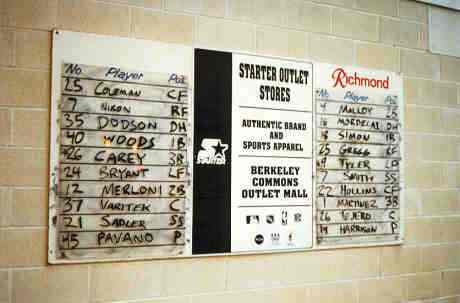 For those who have never attended a minor league ballpark, quite often the starting line up is posted on a whiteboard (like the one here.

The Braves or Red Sox fans out there might recognize some of these names.




Gwinnett Braves
Visit Richmond


Home
Virginia Page