Salem Avalanche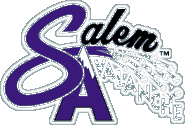 Related Links

Salem Memorial Stadium
1004 Texas St.
Salem, VA 24153
540-389-3333

A Colorado Rockies (at the time I visited)
Carolina League



On April 5, 2006, the naming rights of the stadium were sold to the Salem-based Lewis-Gale Medical Center and was renamed Lewis-Gale Medical Center Field at Salem Memorial Baseball Stadium.

Date Visited: 6/9/99

General Area in state: Southwestern part of the state. Close to Roanoke.

Directions: Check their website above for directions. I don't remember it being difficult.

Ease of getting in and out: Fine

Website: Good. Loads quickly, can easily find information, not a lot of 'junk'. 8/18/09 - most sites are the same now. There is a lot of 'junk' and advertisements now. However, there is a cool section under the Fans link called the "Five Tools of Baseball".

Radio Announcer: Wonderful. Called baseball and that was it. No commercials were announced while doing the play-by-play except upcoming events at the stadium.

Customer Service: Superb

Host Hotel: I stayed at the Holiday Inn Express (Civic Center Area), 1535 E.Main St., Salem, VA 24135, 540-986-1000. It was clean, safe, and just fine. Holiday Inn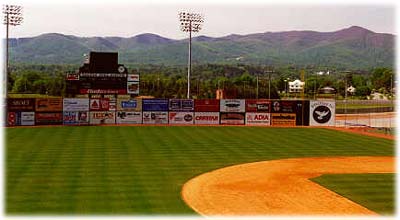 Personal Notes: This was one of my favorites for several reasons. It had most of the things I enjoy when visiting a stadium.
It had the starting line up posted. It listed first name, last name, player #, and position. The scoreboard had up to date information for both teams. Player name, batting average, what they did their last at bat.
As mentioned above, the radio announcer was excellent.
One of the prizes was the grounds crew coming to your house and mowing your lawn and trimming your hedges. Nice prize.
A guy came around with a garbage bag asking for garbage.
All customer service staff were friendly, polite, and smiled.
Excellent sausage stand on the first base side.
New stadium, plenty of walking room, comfortable seats.
The game itself was exciting. The Avalanche won in a come from behind dramatic fashion. They were losing 7 - 3 into the 8th. The Keys (visiting team) took their starting pitcher out and started the 8th with their bull pen. They blew it. Gave up six runs in that inning.
Saw Todd Sears play.
The one thing that could be improved on is playing music (drum beats) between pitches. They didn't do it often but was irritating when they did.
Met a guy who had such a deep southern accent I understood about 25 % of what he said. Yet we talked (he talked, I smiled and nodded) for about 15 minutes. The guy sitting next to me during the game had such a strong Brooklyn accent I understood about 40% of what he said. We talked on and off during the entire game with lots of excuse me's? Can you say that again's? and huh's?
8/18/09 Notes: The Salem Avalanche are now the Salem Red Sox. Salem Memorial Stadium now appears to be called Lewis-Gale Field. Not sure when all of that happened.


Home Page

Virginia Page