Shreveport Captains
6/7/97

Shreveport-Bossier Captains
Bossier-Shreveport Mudbugs (CHL)
Shreveport-Bossier Visitor Center

Shreveport, LA
Fairgrounds Field
AA Affiliate SF Giants
Texas League
318-636-5555





The Captains provided a scorecard with the starting lineup already preprinted. It included both teams, the players batting average, HRs, RBIs, position, and stolen base record. A great feature. The boxes, however, were too small for the type of scoring I keep.
The home dugout was between home and third. There was one level of billboards in the outfield. The Captains won 10 - 4. Lots of hits and action.
The music was way too loud to enjoy the game. And, they played music when the announcer was saying something. Never could understand that....
I camped out at a KOA (nice facility) so can't recommend a hotel.



In the 2001 season, the team name changed to Swamp Dragons. In 2003, the team name changed to the Shreveport Sports and became a part of the Central League.
11/2002 - It appears Shreveport no longer has a team or it has moved to a nearby community. I will update when I get more info.
11/2003 - Thanks to CurleywolfHale and Frank Jackson for the following information: The Texas League franchise was purchased by Tom Hicks and became the Independent Central League. In 2003, Shreveport was added to the Central League and became the Shreveport Sports.
10/2007 - I can't seem to find any reference of any minor league or independent league in Shreveport. Please send updates, if you have any.
7/2008 - I discovered the team is part of the Independent American Association League. Check the Shreveport-Bossier Captains link above.
12/2011 - The Shreveport-Bossier Captains were purchased by the Laredo Lemurs and relocated to Texas.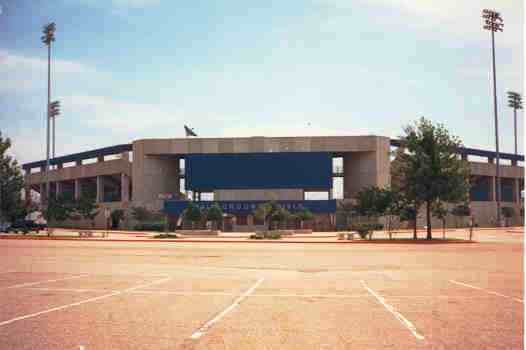 The Captains played in Fairgrounds Field. There was plenty of parking available.




Fairgrounds Field had two levels of seating separated by a walkway. It was designed well enough that pedestrian traffic on the walkway did not interfere with the viewing of the game for those folks seated on the first rows of the second level. You'll notice a chain linked fence around the back and sides of the dug out. That's unusual.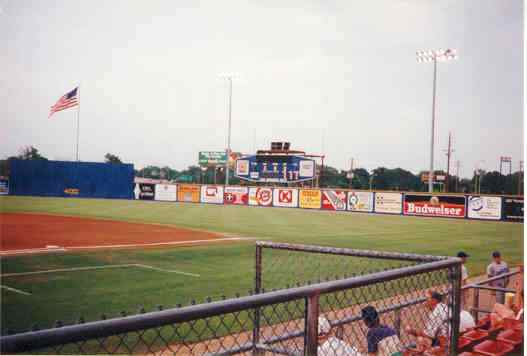 Here's a closer look at a piece of the chain linked fence around the dugout. As you can see, just one level of billboards in the outfield. In the far right corner, a couple of players saying hello to the fans.