South Bend
7/17/97

Southbend Links
Silver Hawks
Studebaker Museum
City of Southbend

Silver Hawks
A Affiliate / Diamondbacks
Midwest League
Stanley Coveleski Stadium
South Bend, IN 46601
574-235-9988





The stadium is called 'The Cove'. It had one level of seating, one level of billboards in the outfield. The field was groomed nicely. There was too much music during the game. Not one moment of silence. I found that annoying. The giveaway was an umbrella; a nice one.
This was my first ever single A game. I could tell the difference in skill level between A and AA. There's a slighter difference between AA and AAA.
Dave Ullery (visiting team - Lansing Lugnuts) got his first professional career homerun at the game I attended.
I drove to the stadium early in the morning to make sure I knew how to get there. Sure glad I did. It was difficult to find. I pulled into a parking lot and there, sitting in the middle of the lot, was a Midwest League baseball. It was right field foul territory. I made sure I didn't park there when I went to the game that night.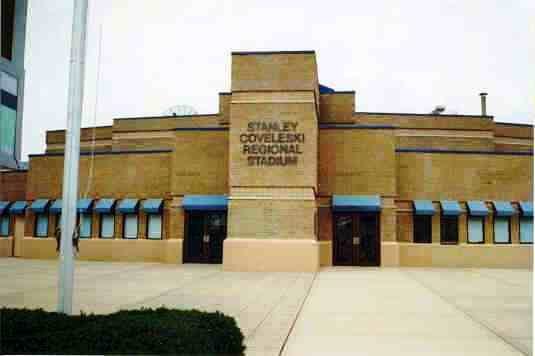 The outside of the stadium way before game time. The windows with the blue shades over them are the ticket windows. You can just tell from this photo it is a beautifully kept, clean stadium.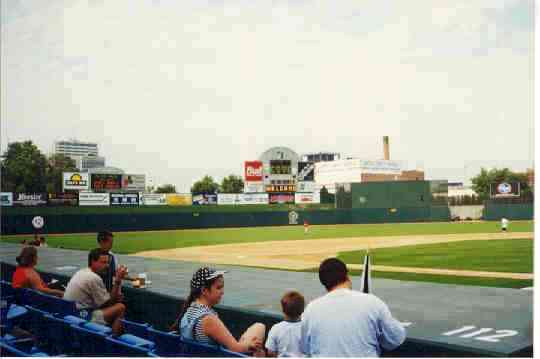 The gentleman in the front row is checking out his new umbrella. Even minor league teams are retiring #42. Look on the far left field wall.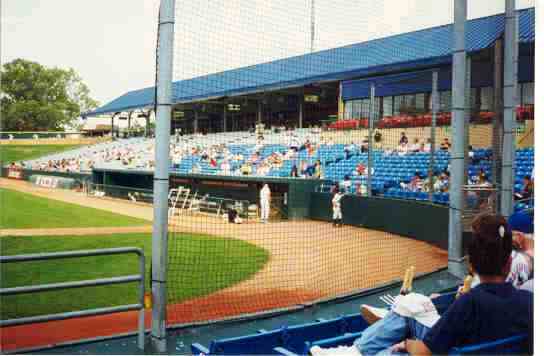 One level of seating in this stadium. It had a few sky boxes shown just above the red seats in the picture above.
This picture is a perfect example of why I don't like sitting behind the net. It definitely does block the view.
Updated: Jan 26, 2013