St. Louis Cardinals 6/13/97

St. Louis Cardinals
St. Louis Blues
St. Louis Area

St. Louis Cardinals
Busch Stadium
St. Louis, MO
314-421-3060
After spending the day touring the city of St. Louis, going up in the Arch, watching a Lewis and Clark IMAX show, taking a riverboat cruise, I headed to the ballpark. It had been rainy all day. This was the first interleague game to be played at Busch Stadium. Cardinals vs. Cleveland Indians.
At around 7 pm, the grounds crew started taking the tarp off the field. 10 minutes later, they put it back on. I sat in my seat 3 1/2 hours, umbrella over my head, as it rained the entire time. I finally left. They did eventually call the game. I was disappointed. I did get to peer at David Justice through my binoculars.
Busch Stadium is a pretty stadium in the downtown area. The fans really support their team. That was quite nice to see. There is public transportation to the stadium (train). Nice.
There's plenty to see and do in St. Louis besides baseball. Click on the St. Louis Area website above to link to the city's convention and visitors website. It's a good website. Takes a while to load but has lots of tourist information.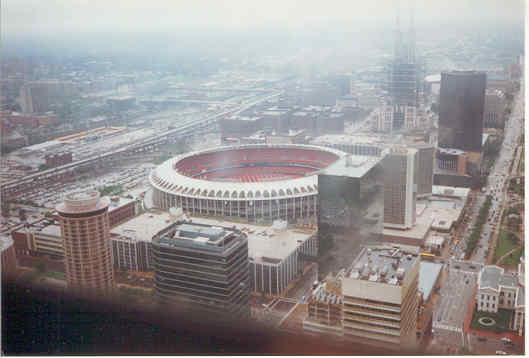 Busch Stadium taken from top of the Arch on a rainy overcast day. You can tell from this picture, it is in the downtown area of St. Louis.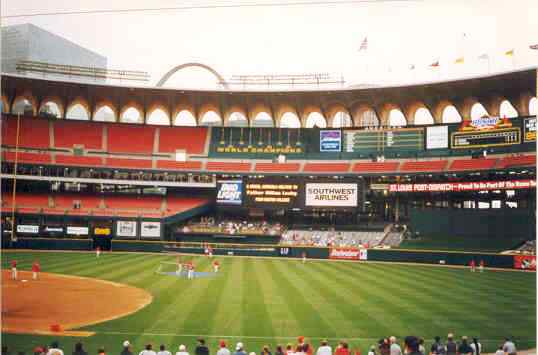 This was taken before the game was called. You can see the Arch between the lights at the top of the stadium. That's from where I took the previous picture.