Syracuse, NY 8/1/97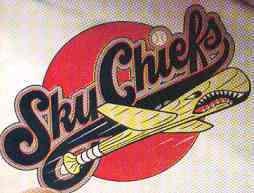 Syracuse SkyChiefs
International League
AAA Blue Jays (at time I went)
One Tex Simone Dr
Syracuse, NY 13208
315-474-7833

Directions: New York State Thruway to exit 36 (I-81 South), to 7th North Street exit, left on 7th North, south on Hiawatha Boulevard
Host Hotel: Ramada Inn, 1305 Buckley Rd., Syracuse, NY 13212 (315) 457- 8670
Ease of getting in and out: There were goods signs into the stadium and getting out of the stadium. Plenty of parking.

Personal Notes:
P&C Stadium was a brand new stadium when I went. Inaugural year 1997. I found it was too much like major league ballparks; didn't really expect that and didn't really enjoy it. The architecture reminded me of the Ballpark in Arlington; that was quite nice. It has two levels and skyboxes. The stadium is now called Alliance Bank Stadium. I am not sure in which year the name changed.
I was disappointed in how the starting line up was posted. It was on a flashing marquee. I had to wait 10 minutes through commericals, upcoming events, league stats before the line up was displayed. Then it displayed so fast I didn't have time to write it down on my scorecard so had to wait another 10 minutes for it to repeat.
They played commercials on the jumbotron between innings. Annoying.
Fake grass on the field.
Both bullpens were way out in left and left center field. Didn't like that.
They had Carvel ice cream. Yum. Miss that.
There was a beautiful sunset.

The SkyChiefs are now known as the Chiefs (not sure when the name changed). The logo has changed from an airplane made from a bat (displayed above) to a train. Their website (listed above) has a really cool feature - a list of local hotels in case you wanted to visit the stadium. Nice touch. And, the Chiefs are the AAA of the Washington Nationals now. These comments added 7/8/09.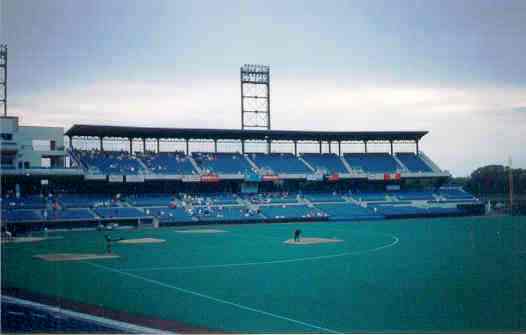 The bullpens were way out here somewhere
There are two levels of seating. Artificial turf.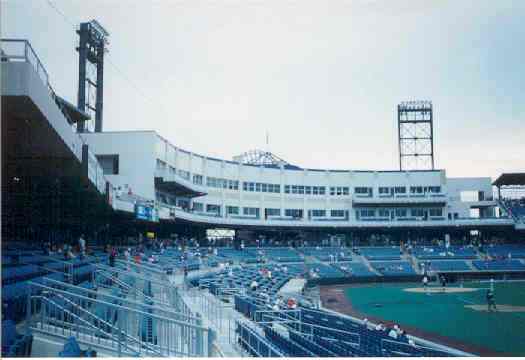 Sky boxes for corporate sponsors