Toronto, ON

Toronto Blue Jays
American League


SkyDome (Rogers Centre)
1 Blue Jays Way
Toronto, ON M5V 1J1
1-888-OK-GO-JAY
Directions: Check their website below for directions.
General Area in Province: The southeastern part of Ontario on the northwestern side of Lake Ontario.
Host Hotel: I don't know if it's the host hotel but the number for the Skydome Hotel (a Renaissance Hotel/Marriott) is: 416-341-7100 or 1-800-237-1512
Date Visited: 9/19/2000
Ease of getting to; getting in and out of: I didn't do the driving; a friend did. Traffic was awful. Glad he was driving.
Radio Announcer: Didn't listen.
Website: Decent. They have stadium history, local places to stay and things to do, public transportation information. Nice.
Customer Service: Okay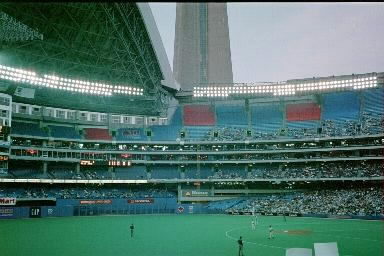 The dome was open at this game. You can see the bottom portion of the CN Tower beyond right field. It looms over the stadium when the dome is open.





Personal Notes: Very nice ballpark. The dome was open this game. I sat on the third base side towards the left field. The CN Tower loomed over the right field. There's a hotel right in the stadium. That's pretty cool. Plenty of food choices and plenty of vendors strolling through the stands.
There was a huge jumbotron that provided instant replays. It had the clearest picture I've seen on those type jumbotrons.
All players were announced.
The ushers tried to limit people movement during play by disallowing entry into the section until play had stopped. It's a great idea, but it wasn't all that successful.
The Blue Jays bombarded the Yankees 16 - 3 the night I went. There were plenty of Yankee fans in the crowd. They were easy to identify. They were the loud, boisterous ones supporting their team.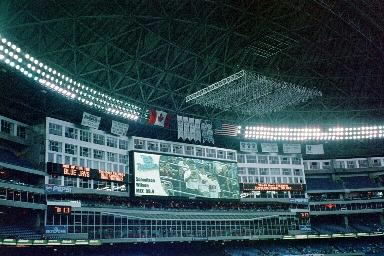 This was taken later on in the evening. I believe the windows to the left, right and above the scoreboard are windows into the hotel rooms. Underneath the scoreboard is the Hard Rock Cafe located in the Stadium.






Other Things To See And Do:
Maple Leafs
Steelheads Mississauga (OHL)
Toronto Marlies (AHL)
Toronto Tourism Site


Home
Ontario Page