Lawrence-Dumont Stadium, June 4, 2003

Wichita, KS
Wichita Wranglers
AA Kansas City Royals
Texas League
300 S. Sycamore
Wichita, KS 67213
316-267-3372





2009 Update: The Wichita Wranglers are no longer. I'm not quite sure when they ceased operations. The Wichita Wingnuts (American Association of Independent Professional Baseball) now play at Lawrence-Dumont Stadium.

Wranglers update: The Wichita Wranglers AA Texas League moved to Springdale, AK (2009) and became the NW Arkansas Naturals.

Directions: Check the official website for directions

Host Hotel: I don't know the official host hotel, but I stayed at a LaQuinta Inn. It was safe, secure and not too far from the stadium (maybe 5 miles or so.) The hotel manager actually gave me free tickets to the game. I believe (could be wrong) the visiting team stayed here, as well. I'd recommend staying here if you visit Lawrence-Dumont Stadium. Its phone number is: 316-681-2881

Ease of getting in/out: Been to worse; been to better

General Area in State: South Central Kansas



Personal Notes:
I remember really enjoying my visit to this stadium. The specifics elude me now. There were two levels of billboards. The infield was turf; the outfield was grass. Lawrence-Dumont Stadium is one of those older structures, built in 1934. It is admirably well maintained. There were posters on the columns outside the stadium giving a history of ballplayers who played at this facility.
Customer service must have been excellent, otherwise the remembrance of having a good time would not exist. The mascot threw candy into the stands. During 'trash pick up time', the organization got kids from the stands to assist. A great concept. Can this be right? Attendance was 712. Come on residents of Wichita! You have great, affordable entertainment! Go out and watch your Wranglers! The Wranglers beat the visiting team, the Midland Rockhounds, 2-1 this game.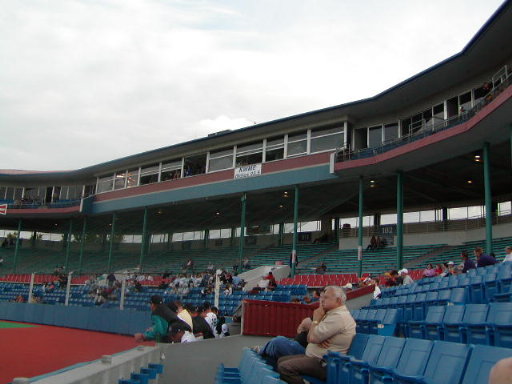 You can tell from this photo, the age of the stadium by seeing the girders in the seats. You can also tell, it is remarkably maintained.
This also gives you an idea of the lack of attendance at the game I went to.




Here's the scoreboard. You can see it is manually operated. (You can see someone standing just below inning 10.) It also had one of those chickens that dropped 'eggs' for zeros for the opposing team. I had only see that once before.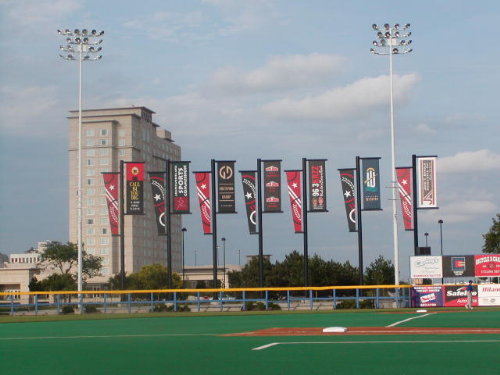 Here's a field shot taken from the third base side. You can see the turf in the infield and the grass in the outfield. Colorful banners are displayed across the outfield.




Updated: Jan 22, 2013
Wichita Sites
Wichita Convention and Visitors Bureau
Wichita Wingnuts
Wichita Thunder (CHL)



Home
Kansas Page