Port City Roosters, 6/28/96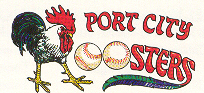 The Port City Roosters played in Wilmington, NC for a few short years in the middle 90's. They played at Brooks Field - UNC Wilmington. They were part of the Southern League, AA affiliate of the Seattle Mariners.
The name originates as follows: Port City to recognize Wilmington as North Carolina's largest port. Roosters was chosen as part of an 'awakening' of professional baseball to the city of Wilmington.
Brooks Field was small compared to other stadiums I've been to. Only one row of billboards in the outfield. A fence went around most of the field. It's the only minor league game I've seen played at a university. Note: I have been to other minor league teams played at universities since my visit here.
The Roosters moved to Mobile, AL for the 1997 season. As of the 2000 season, no other professional baseball team has been established in Wilmington. You can, of course, watch the UNCW Seahawks play at Brooks Field.
There's plenty to see and do in Wilmington: Golf, swim, eat. It's on the Atlantic coast, just two hours north of Myrtle Beach, SC.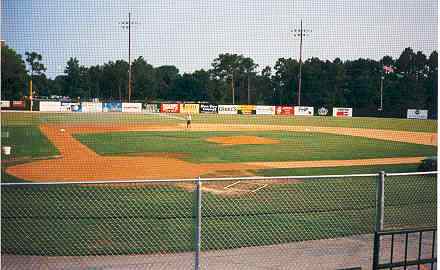 Brooks Field, one level of bill boards, chain link fence, netting all the way around.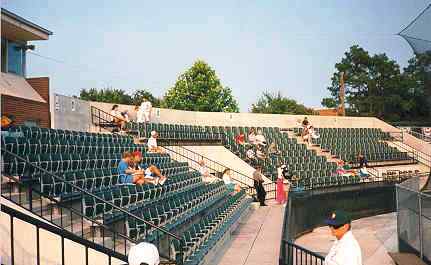 Definitely a smaller stadium. The concourse was behind the stands.




About Wilmington



Home
North Carolina Page