Carolina Mudcats

Zebulon, NC


Carolina Mudcats
Southern League
AA Affiliate of Colorado Rockies (at the time I went)
919-269-CATS (2287)
Five County Stadium
Directions: Take I 440 to US 64 heading east. Take US 64 east to US 264 east. Go two exits to Hwy 39. Make right at exit. Stadium will be on your right.
General Area in State: East of Raleigh about 20 miles.
Host Hotel: I don't know the host hotel but there's plenty to choose from in Raleigh. You can also check with the Zebulon Chamber of Commerce for hotel accommodations. Their number is 919-269-6320.
Date visited: 5/20/00
Ease of getting to; getting in and out of: Once I figured out I 440, it was very easy. Local police officers did a great job at moving traffic out of the park after the game.
Website: Okay
Customer Service: Excellent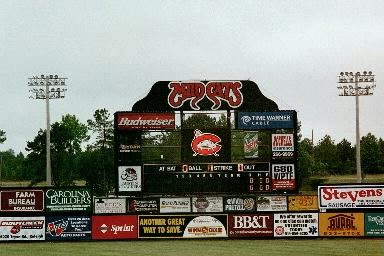 Mud Cats Scoreboard....
Great logo






Third base side...
Mudcats bullpen in the foreground



Personal Notes: Wonderful ballpark. Two levels. Plenty of eating areas with picnic tables and seats. Standard ballpark food. Hotdogs weren't that good. The bullpens were on the field just beyond the first and third bases. Very nice. Not many ballparks have that and it's a wonderful feature to watch the pitchers warm up. There's a protective net that goes around all the first level seats. I personally don't like that so I sat on the second level just by first base. Excellent view. The announcer was very good. Personable. They didn't have the starting line up posted but if you asked at customer service, they gave you the line up. For anyone who is planning a visit to the area, definitely check this park out
8/2008 - Quite a while back, the Mudcats changed affiliation to the Florida Marlins. 7/2009 - It appears the Mudcats are now the AA affiliate of the Cincinnati Reds. 12/23/12 - The Mudcats are the high A of the Cleveland Indians and now play in the Carolina League.

Carolina Mudcats
Carolina Hurricanes


Home
North Carolina Page