Mike Lansing Field, Casper, WY

Casper Rockies
Pioneer League
Rookie for Colorado Rockies
907 N. Poplar
Casper, WY 82601
307-232-1111



Dates visited: July 3 and 4, 2003

Directions: From Colorado - Take I-25 N to Poplar Street (Exit 188B); go north on Poplar, then a right into the Crossroads Park Complex. It took about 5 hours or so from the Denver, CO area.

Customer Service: The best ever!

Ease of getting in and out: Excellent. I walked there from the hotel I was staying at.

Website: Decent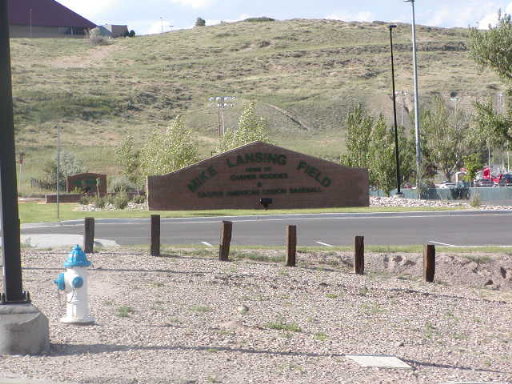 Entrance to Mike Lansing Field.
The topography is certainly Wyoming.


Personal Notes:
This was my first visit to Wyoming as well as my first rookie game. I highly recommend attending a game here. It was pure entertainment. It made me realize rookie games are just as entertaining as A, AA, and AAA games.
They had this promotion I had never witnessed before. They'd announce an opposing team player to be the 'Beer Batter.' If that batter struck out during any of his at bats, the fans would get $2 beers for the next 10 minutes. Quite a good promotion. Fans really got into it.
They also had Baseball Bingo (I had seen that in Trenton.) Another very good form of entertainment.
Since I attended games here during the 4th of July, they had a fireworks display. They allowed fans to walk down and sit on the playing field to watch the display. It's the first ballpark I've been to where they actually allowed fans to step on the grass. Awesome.
As mentioned previously, customer service rocked!
The only downfall was there was netting around the entire seating area.
8/20/09 Notes: On Halloween, 2007, the Casper Rockies name changed to the Casper Ghosts and along with that a new logo (as well as 'glow in the dark' merchandise. They are still a Pioneer League affiliate of the Colorado Rockies.

Fall, 2011 Notes: The Casper Rockies announced they were moving to Grand Junction, CO for the start of the 2012 season and will no longer be playing at Mike Lansing Field.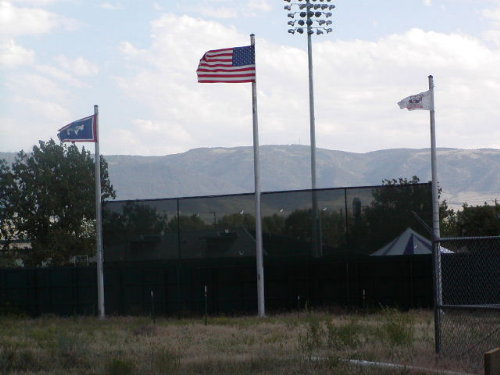 Here's the backside of the stadium. Just look at that beautiful view of the mountains.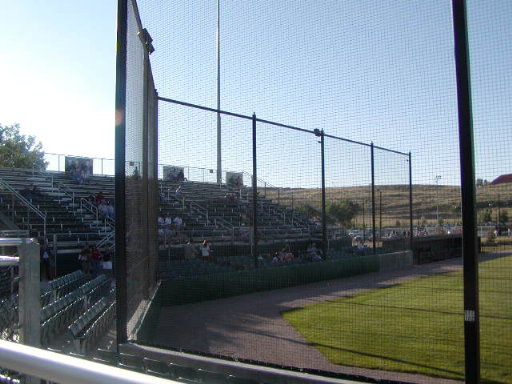 There is a screen around most of the seating area.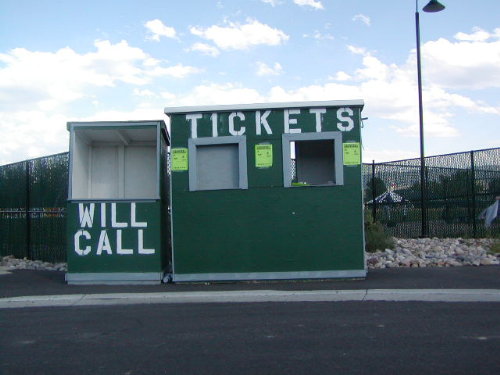 This is where you got your tickets. It was so cool.



Grand Junction Rockies


Home
Wyoming Page