Colorado Rockies
6/27/97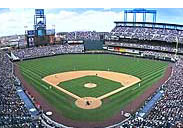 Coors Field 303-ROCKIES
Denver, CO
National League
Coors Field is a nice looking stadium. Food was expensive though there was plenty to choose from. Foot long hot dogs. Yum. They do allow you to bring food and drinks in from the outside. They do not allow tailgating.
Traffic and parking was horrendous. I have been back since this trip and discovered you can take a bus from areas around the city. That's a much better way to go. Check your hotel front desk for information on that. Starting the 2007 season, a light rail system was established in the southern area of Denver. This service, RTD-Denver, provides easy access to Union Station, which is a few blocks from Coors Field.
There were, of course, plenty of hits and runs at this game. Andres Galarraga took a swing, the bat slipped out of his hand. It hit a lady behind the third base side. Lots of blood. I, for once, was glad I was sitting behind the net.
VanLandingham pitched for the SF Giants at this game. His name didn't fit across the back of his shirt nor did it fit on the scoreboard.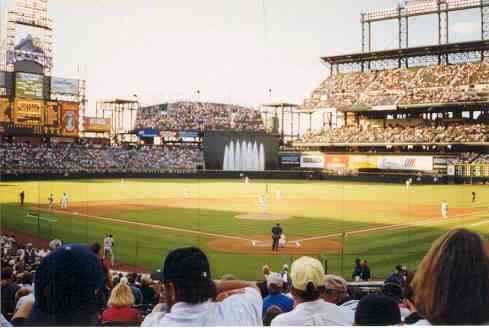 The section up behind the water fountains is called the 'Rock Pile'
There's plenty to see and do in Denver. Click on the Denver Visitor's Bureau website below for more information.
Drink plenty of water and bring lotion if you venture a trip to Denver.

Since the origination of this page, I have moved to Colorado (in 2003). I have visited Coors Field on many occasions especially in 2006 and 2007. Today is 10/21/07 (first snow storm of the season) and the Rockies will be playing in their first ever World Series in three days. I will try to get tickets to a WS game but if I don't, I'll post photos here of Coors Field as it looks in 2008.
To see an updated review and photos of Coors Field (2008), CLICK HERE

Things To See And Do In Denver
Colorado Rockies
Colorado Avalanche
Colorado Mammoth
Denver Cutthroats
Denver Tourism Site