Brisbane Bandits
Holloway Field
29 Market St
Newmarket, QLD 4051
(07) 3162 8316



Date Visited: December 15, 2013

Official Website: Brisbane Bandits

Stadium Journey Review: Holloway Field

Other Things to See/Do in Area: Newmarket Hotel




Pitchers hate coming to Holloway Field because of all the home runs given up due to the short field dimensions 340'-360'-320' from left to right. But that always makes it enjoyable for the fans.




Here's a look at the seating from the outfield.

The Bandits moved to Holloway Field beginning the 2013/2014 season and many enhancements were made to the field, including all new blue bucket seats.

On the top of the covered area is an area to purchase drinks (including the adult variety) and a deck to stand on to watch the game.

There are no bleacher seats at this stadium.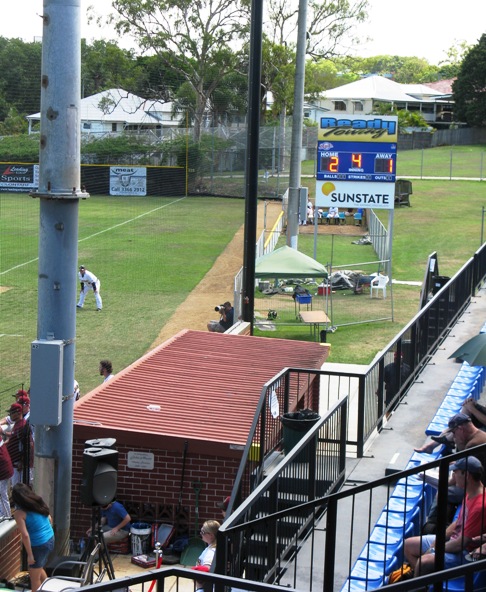 This is an odd place to put a scoreboard. The scoreboard shows minimal information.

Just beyond the scoreboard you can see the home team bullpen.

Looking beyond the right field line, you can see the park is located in a residential area.

The brick around the dugout is part of the renovations made prior to the 2013/2014 season.

At the bottom left of the photo, you can see the sound system at the ballpark.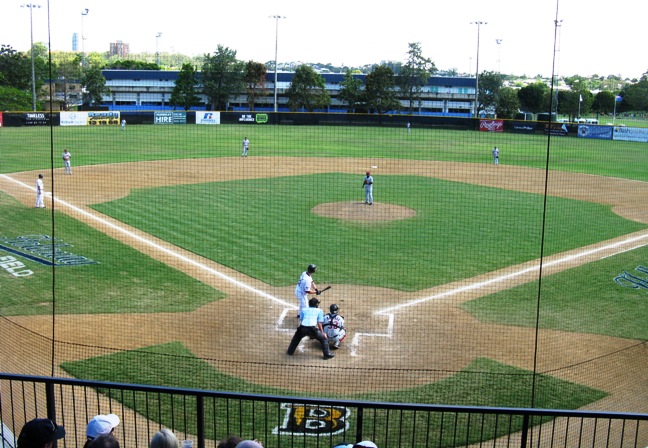 A view from behind home plate taken from the deck area.

The building beyond the outfield is a shared office building / club house with a soccer field and team on the other side of Holloway Field.








A temporary souvenir/merchandise table.

It is mostly ball caps and shirts. Be sure to get one as the Bandits have the best logo in the Australian Baseball League.




Norwood, SA (Adelaide Bite)
Rooty Hill, NSW (Sydney Blue Sox)
Narrabundah, ACT (Canberra Cavalry)
Laverton, VIC (Melbourne Aces)
Thornlie, WA (Perth Heat)


Australia Home Page
Baseball Home Page