Sydney Blue Sox
Blue Sox Stadium
81 Eastern Road
Rooty Hill, NSW 2766
(02) 8006-1423

Team Website: Blue Sox

Stadium Journey Review: Stadium Journey

Date Visited: Dec 1, 2013
Other Things To Do in the Area:
The Rocks
Hop On - Hop Off Sydney Sight Seeing Bus
Featherdale Wildlife Park The Blue Sox play in Blue Sox Stadium, a part of Blacktown Olympic Park which was built as a baseball and softball venue for the Sydney 2000 Olympics. I enjoyed myself at the Blue Sox game and this organization provides excellent customer service and they are fine hosts.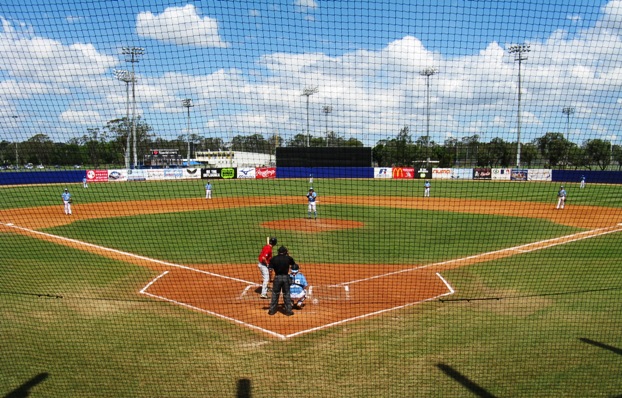 The field. The grass is nice and green at the beginning of the season but by the end of the season it's not quite as plush.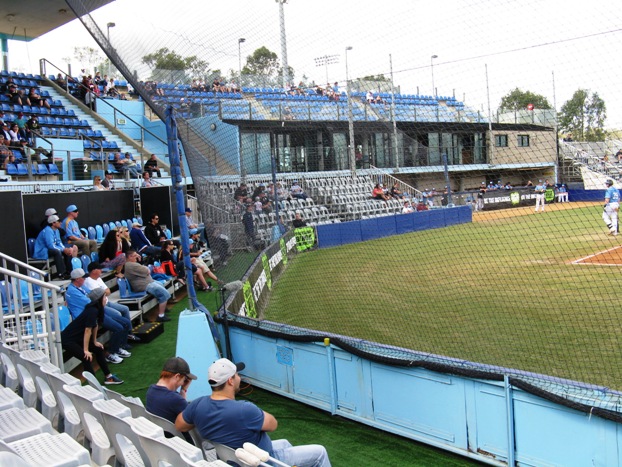 Seating area. There are bleachers down both base lines which are not obstructed by the netting. The netting runs from behind one dug out through the other dug out.
The glass doors on the third base side contains a party room that can be rented out for private functions while watching the game.







Pirates Cove. A concession stand on the outside concourse that offers the basics: Hot dogs, chips, water, soda and other snacks like cookies and lolly pops. Prices are quite reasonable.






Getting to the stadium.
The ballpark is located in the western suburbs of Sydney in a town known as Rooty Hill. It's about 45 minutes from downtown Sydney.
Yes, you can drive to the ballpark but I took the train. The Blue Sox personnel make shuttle runs from the Rooty Hill station to the ballpark and back after the game (very, very nice).
Be aware, the Rooty Hill station is not wheelchair or stroller accessible. One must walk up steps and over a bridge to get to the street (those with a fear of heights be warned).




Norwood, SA (Adelaide Bite)
Narrabundah, ACT (Canberra Cavalry)
Laverton, VIC (Melbourne Aces)
Thornlie, WA (Perth Heat)
Newmarket, QLD (Brisbane Bandits)


Australia Home Page

Baseball Home Page