Canberra Cavalry
The Fort at Narrabundah
Corner of Goyder and Keema Place
Narrabundah, ACT 2604
(02) 6295 8379


Date Visited: December 5, 2013

Stadium Journey Review: The Fort at Narrabundah

Official Website: Canberra Cavalry

Hotel: Canberra - Best Western





The Canberra Cavalry play in the Australia Baseball League and play at "The Fort" at Narrabundah Ballpark. The naming of "The Fort" transpired in the first year of play relating to the team name, the Cavalry. It was the home fortress where the team rarely lost. And, it was obviously a good match, keeping up with the military theme...and the name just stuck.



Yes, there was a rain delay the game I attended. And it got very cold throughout the evening. 12C/53F. Not what I was expecting for a summer vacation in Australia.
This photo shows tables and chairs within a white picket fence behind the home plate area. These are known as the Home Run Club.
There are other tables and chairs located right behind the net down the base lines, as well.
And although there was a rain delay, the game did get played and the fans were treated to a beautiful rainbow later in the evening.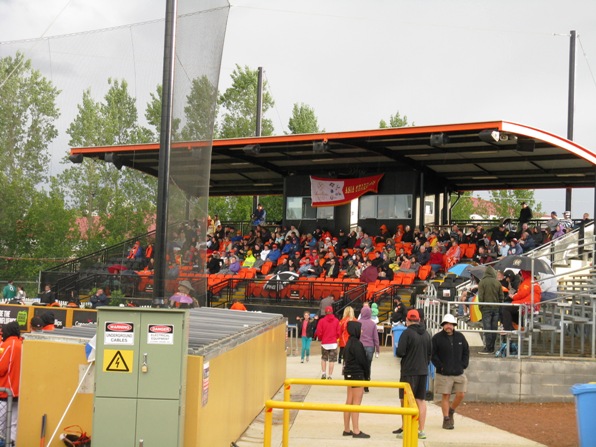 This is the seating area behind home plate. It is the only covered section in the ballpark.
There are bleachers down both the base lines (which are net free).
The banner displayed in front of the press box celebrates the Cavalry winning the 2013 Asia Series.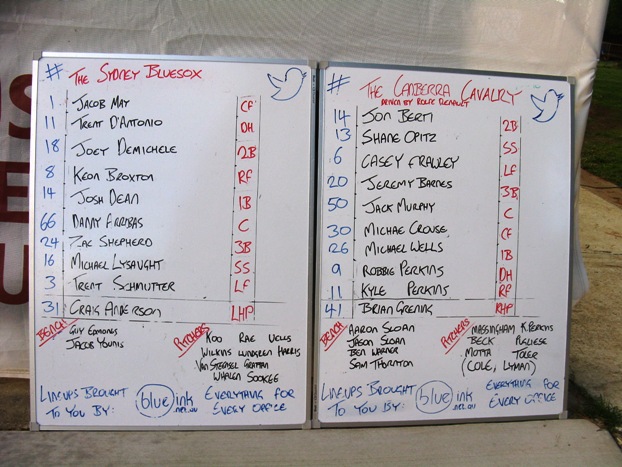 The starting lineups are posted as you enter from the car park. The Calvary had some brothers playing for their team. This is not uncommon in the ABL.
What players names do you recognize?







View from the first base side after the rain let up. The car park is located behind the yellow M in the left field. Fans walk up a pathway on the left side to enter the ballpark.
The dugouts are kind of tall so seeing over them, from the concourse, might provide a struggle for short people and kids.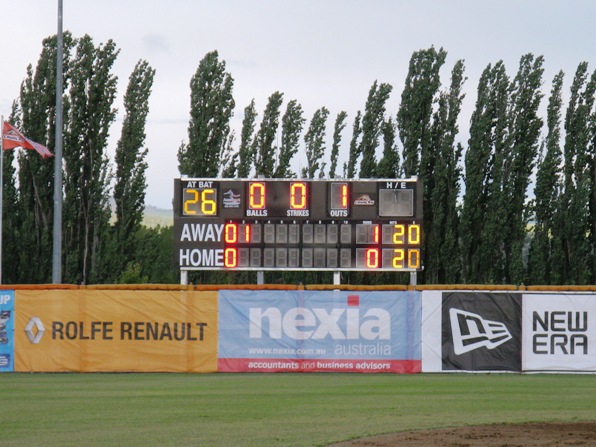 The Fort has a basic scoreboard plus a nice set of trees in the outfield.





Norwood, SA (Adelaide Bite)
Rooty Hill, NSW (Sydney Blue Sox)
Laverton, VIC (Melbourne Aces)
Thornlie, WA (Perth Heat)
Newmarket, QLD (Brisbane Bandits)


Australia Home Page
Baseball Home Page