Melbourne Aces
Melbourne Ballpark
Merton Ave
Laverton, VIC 3028
(03) 8360 9371


Date Visited: December 6, 2013

Official Website: Melbourne Aces

Stadium Journey Review: Stadium Journey

Other Things To Do in the Area:

Melbourne Sports Tours (A fantastic tour visiting the many sporting venues in the sports capitol of Australia)
Aussie Brewery Tour
Yarra Valley Winery Tour

I really, really wanted to like this stadium and team because several minor league players of the Rockies were playing for the Aces the season I attended. But I didn't really like it mainly because accessing it via train wasn't that easy, there is a netting around the entire seating area, and fake grass and dirt make up the field.

That said, I found Melbourne a fantastic vacation spot with a thriving downtown, plenty of wineries to visit, and all kinds of sport venues.


The field from behind home plate. There is a train track beyond the outfield and fans get to witness trains passing by during the game.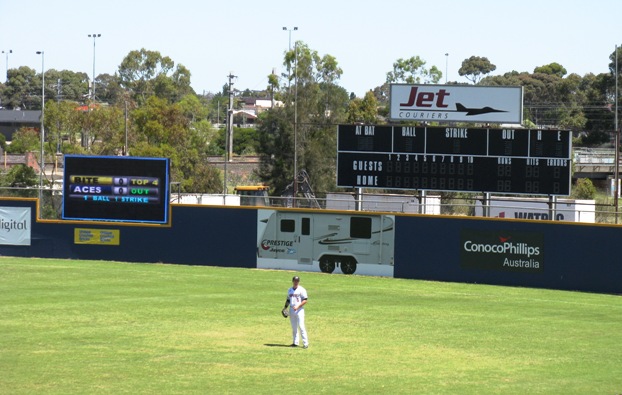 Scoreboard(s). The traditional scoreboard (the one on the right in this photo) was out of order this game. Instead, score was posted on the smaller video board to the left.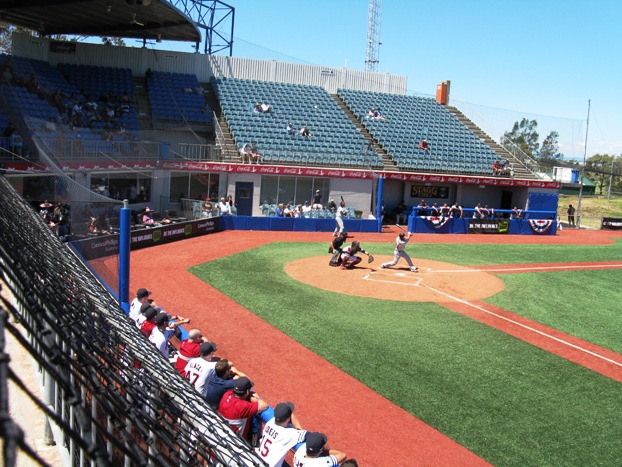 Here's a shot of the seating area. You can also see both dugouts with the players lined up watching the game.

Minimal crowd on hand this game.

There are black recliner seats behind home plate for comfy fan seating.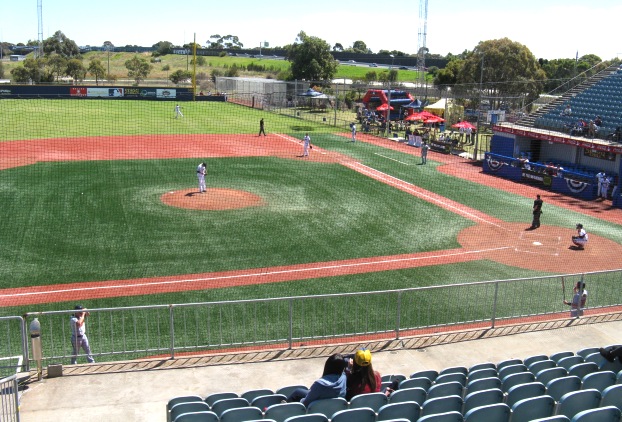 View from third base side. There is awful fake grass and dirt. The only real dirt is the pitcher's mound. That has become very popular in college stadiums in the US and I don't like it.

I mostly sat on the picnic tables under the red umbrellas down the first base line. There is a Taco Bills in that area that serves good Mexican food and margaritas.







Norwood, SA (Adelaide Bite)
Rooty Hill, NSW (Sydney Blue Sox)
Narrabundah, ACT (Canberra Cavalry) Narrabundah, ACT (Canberra Cavalry)
Thornlie, WA (Perth Heat)
Newmarket, QLD (Brisbane Bandits)
Australia Home Page
Baseball Home Page