AFL Trip - Nov, 2008

Sat, 11/8 - Travel to Phoenix - Mesa Game
Sun, 11/9 - Visit w/Radhi and Jim
Mon, 11/10 - Peoria Game
Tues, 11/11 - Surprise-Phoenix Games
Wed, 11/12 - Mesa - Scottsdale Games
Thurs, 11/13 - Phoenix - Peoria Games
Fri, 11/14 - Phoenix - Scottsdale Games
Sat, 11/15 - Surprise - Mesa Games
Sun, 11/16 - Travel Home / Trip Summary





I flew into Phoenix, got my rental car, and found my hotel. In the evening, headed to Hohokam Park to see the Phoenix Desert Dogs vs. Mesa Solar Sox in my first of twelve baseball games of this trip.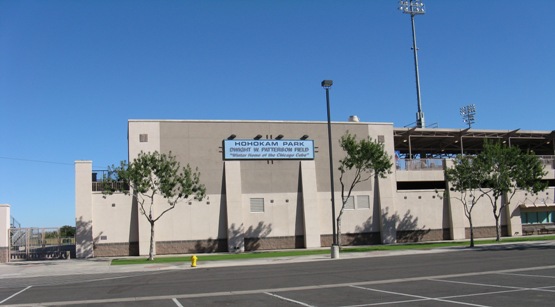 Hohokam Park is where the Cubs hold their spring training and is located in Mesa, AZ. It was easy to find. It sits across the street from a cemetery.
There was a female announcer at this park. She did an excellent job at calling the starting line up. A nice, clear, slow voice so that one was able to write up their own scoresheets and not miss a player being announced.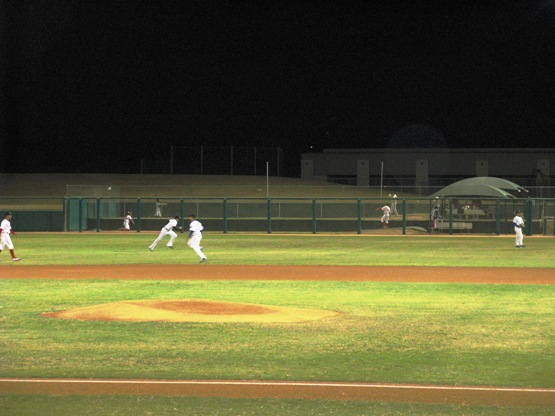 The bullpens at this park were 'stacked' similar to the ones at Angel Stadium (except these are behind right field). This field has taken a beating with the hot AZ weather.



The Solar Sox won this one with a score of 2 - 1 over the Desert Dogs. The lowest scoring game of all the games I saw this trip. The five Solar Sox pitchers combined for a total of 15 strikeouts.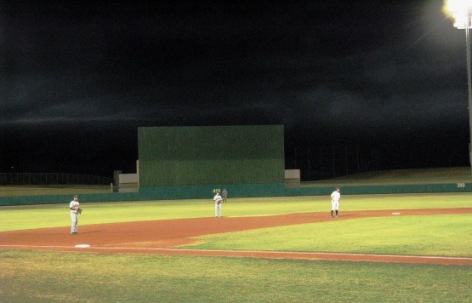 A very strange night cloud ran across the outfield. At first I thought it was the airport lights but the man next to me said the airport was behind us.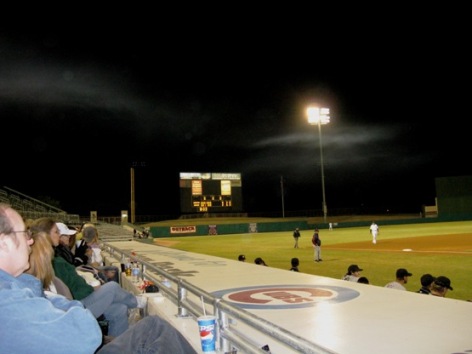 Here's another shot of the strange night lights. Also, take note of the two AFL retired numbers on the left field wall (to the right of the Outback sign). There will be a third one added later on in this trip.







Previous
Next
This Trip - Home Page
Baseball Home Page