AFL Trip - Nov, 2008

Sat, 11/8 - Travel to Phoenix - Mesa Game
Sun, 11/9 - Visit w/Radhi and Jim
Mon, 11/10 - Peoria Game
Tues, 11/11 - Surprise-Phoenix Games
Wed, 11/12 - Mesa - Scottsdale Games
Thurs, 11/13 - Phoenix - Peoria Games
Fri, 11/14 - Phoenix - Scottsdale Games
Sat, 11/15 - Surprise - Mesa Games
Sun, 11/16 - Travel Home / Trip Summary








Saturday took me back to Surprise in the afternoon and then back to Hohokam Park in the evening. I also met up with old friend and fellow baseball roadtripper, Sean.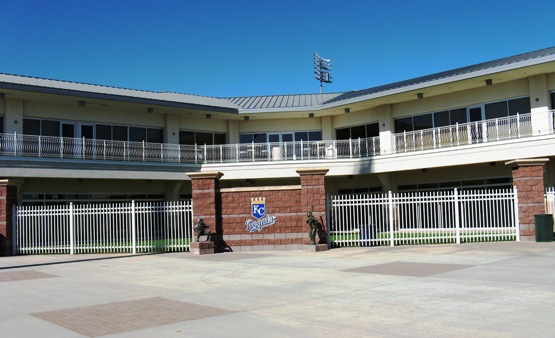 As mentioned on a previous page, Surprise Stadium hosts both the KC Royals and the Texas Rangers winter ball. To the right are the Royals administration offices located beyond the left field foul line. The Rangers have a similar office building located beyond the right field foul line.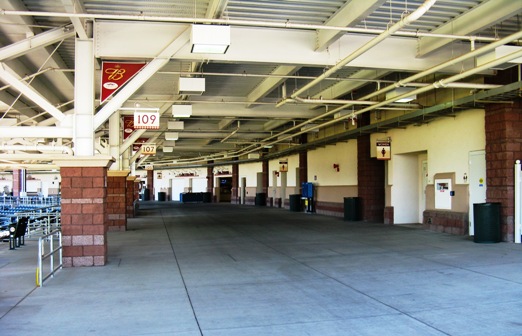 Surprise Stadium had nice, wide, clearly marked, clean concourses.



The Rafters won this one 10 - 8 with runs scattered through 4 of the 8 innings played. The Javelinas had 2 runs in the 2nd and rallied back but not enough in the 9th.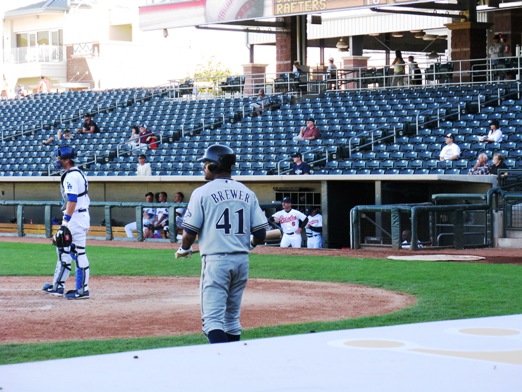 This is Brent Brewer of the Brewers organization. Strange coincidence.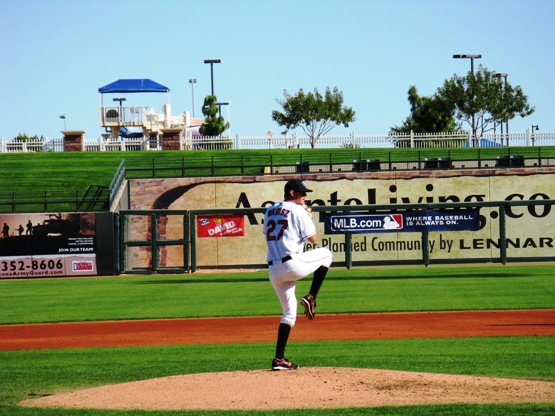 This is Brian Matusz, 4th overall pick this season. This AFL season was his first professional season. He's from Grand Junction, CO. He's with the BAL organization. This game he pitched 4 2/3 innings giving up 5 hits having 5 strikeouts and no walks.







Last day of trip; second to last game of season for me.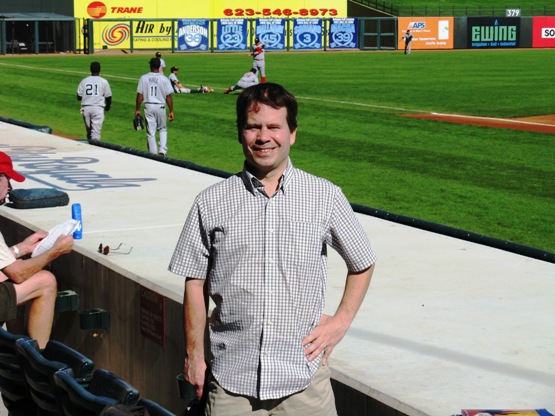 Here's Sean.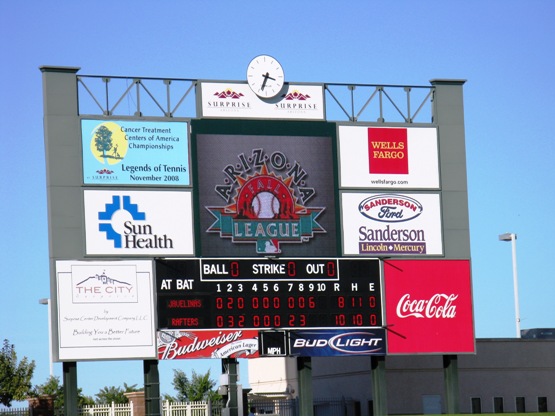 Yeah, a 6 run rally wasn't quite enough for the Javelinas to get the win.







My last game of my vacation. And what a treat is was! I saw Derek Lee get honored by the AFL and his AFL number retired at Hohokam Park.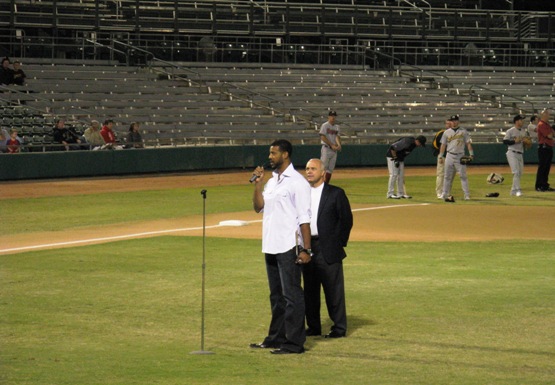 Derek gave his thanks and offered encouragement to the current players in the AFL. Not really a quote but something like, "Your organizations picked YOU to be here and that means they see something in you. Keep up your efforts". He, of course, said it more eloquently than I wrote.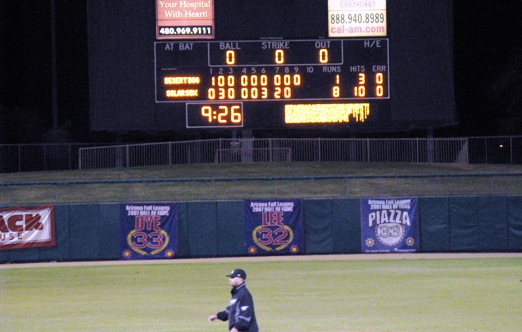 Derek's retired #32 in between Jermaine and Mike. If you remember from a previous photo earlier on in this site, this spot was empty.



I saw the same two teams who opposed each other in the AFL Championship season this year play this evening.




Here's the moon over those same stacked bullpens. As I've been developing this site, I've noticed more ballparks have this than I originally thought.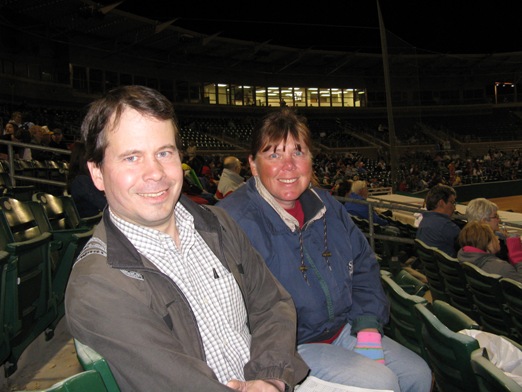 Here's Sean and I at the game. Sean's first day; my last day in AZ (as you can tell by my sunburned face).



The Solar Sox ended up winning this one 8 - 1. Andrew Carpenter (of the PHI organization) pitched 5 excellent innings with 5 strike outs and 5 infield outs. The Solar Sox scattered runs throughout the 2nd, 6th, and 8th.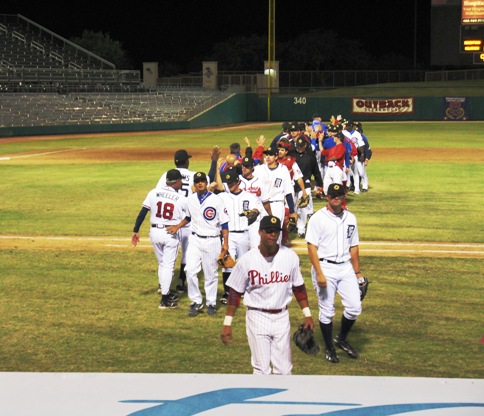 Here's the congratulatory handshakes of the Solar Sox and hi-fives after winning 8-1 this game.

The players of the AFL wore their MLB team's uniform while their cap and helmet had their AFL team's logo.



After saying goodbye to Sean, I headed back to the hotel and packed. I was wishing I could stay another week.

But, alas, the vacation was over.

Click the Next link below to review my trip summary.





Previous
Next
This Trip - Home Page
Baseball Home Page